Audi R8 GT Spyder video review
We put the new Audi R8 GT Spyder to the test around Silverstone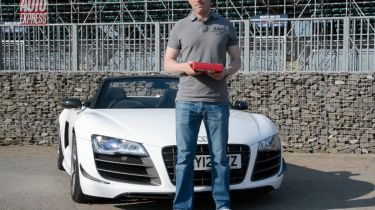 [[{"type":"media","view_mode":"content_narrow","fid":"68835","attributes":{"alt":"","class":"media-image"}}]]
The R8 GT Spyder is the most expensive Audi ever, priced at £158,145 - or £40,000 more than the standard R8 Spyder on which it is based.
This GT model weighs 85kg less than the standard V10 Spyder and is powered by a tuned version of the same mid-mounted 5.2-litre V10. It now produces an extra 35bhp, bringing the total power up to 553bhp.
This means that the R8 GT Spyder can go from 0-62mph in 3.8 seconds and has  a top speed of 197mph. Watch Mat Watson's video review, then read the first drive report here.