The greatest hot hatchbacks of all time
What are the best hot hatchbacks ever? We've picked our top 10s from the 80s, 90s, 2000s and 2010s to settle the argument…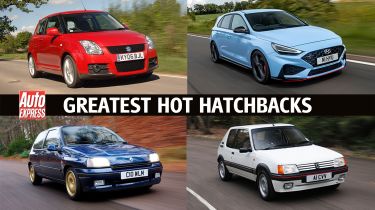 Since their inception in the 1970s, the greatest hot hatchbacks have been combining sports car thrills with family-friendly practicality. Not only were they surprisingly versatile, but many of these legendary models were also very affordable to buy and run when new, meaning that almost anyone could experience the raw excitement of driving one of these pocket rockets.
Today, many of the greatest hot hatches ever have entered car fan folklore, with models like the Peugeot 205 GTI, Ford Escort RS Cosworth and Renault Clio Williams becoming collectors items in their own right. Others have spawned hot hatch dynasties like the Volkswagen Golf GTI, Ford Focus RS and Honda Civic Type R. 
There are still a few lesser-known gems, though, with cars like the Citroen AX GT and Peugeot 306 GTI-6 continuing to appear in the classifieds at temptingly low prices. So if you want to invest in a future classic that won't annihilate your bank account, one of these hot hatches could be the way to go.
At Auto Express, we love hot hatchbacks for all these reasons and more, so we've taken a look back through history and chosen our favourite hot hatches of the 80s, 90s, 2000s and 2010s. If you don't agree with our selections, let us know which car's you'd choose in the comments section below…