The greatest hot hatchbacks of all time
What are the best hot hatchbacks ever? We've picked our top 10s from the 80s, 90s, 2000s and 2010s to settle the argument…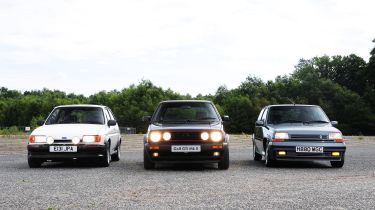 The hot hatch is a great automotive institution representing the democratisation of performance and driving fun. Since its inception in the 1970s and rise to prominence in the 1980s, the concept of a practical, affordable family car with added zest has captured the public's imagination and led manufacturers on a journey that's still progressing today.
The greatest hot hatches ever have entered car fan folklore, with models like the Peugeot 205 GTI, Ford Escort RS Cosworth and Renault Clio Williams becoming collectors items in their own right. Others have spawned hot hatch dynasties like the VW Golf GTI, Ford Focus RS and Honda Civic Type R.
The secret to the success of these famous names, and many others, is the way that hot hatches bring a sports car driving experience within financial reach of so many buyers while maintaining a direct line to the standard hatchbacks they're based on. They're ordinary cars with extraordinary capabilities and you can use them every day without a trust fund to cover the insurance, fuel and maintenance costs.
At Auto Express we love the hot hatch for all these reasons and more. That's what prompted us to look back through history to find the greatest hot hatches of the 80s, 90s, 2000s and 2010s. If you don't agree with our selections, as many inevitably won't, let us know which car's you'd choose in the comments…
Now read our definitive list of the best hot hatchbacks that you can buy new today...