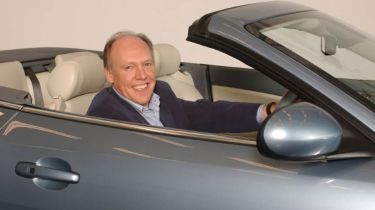 Why he won...
Heritage is both a blessing and a curse – just ask Jaguar design boss Ian Callum! The British brand has a past which is littered with drop-dead gorgeous coupés and sleek saloons, but when he joined the famous manufacturer in 1999, its car styling was in the doldrums. Tasked with the job of giving the entire line-up a bold new look, he had a very difficult job on his hands.
Three years ago, the beautiful XK arrived. It was fashioned with bygone Jaguars very much in mind, but Callum promised that it would be the last retro machine he would sign off. True to his word, the Jaguar XF saloon debuted last year to a chorus of approval, despite its challenging new appearance.
Both vehicles have won our overall Car of the Year award, in 2006 and 2008 respectively. So why, you may ponder, is Callum the recipient of our inaugural Person of the Year prize in 2009?
The answer is simple, and you only have to look at the recently unveiled new XJ to understand. It is the final piece of the jigsaw, and promises to be among the most distinctive models on the road when it arrives here later this year. So, for overseeing the reinvention of a much loved British brand and making Jaguars incredibly desirable and stylish once more, Ian Callum thoroughly deserves this award.