Best insurers: 20-11
It's a solid result for these insurance companies, which have squeezed into the top half our Driver Power survey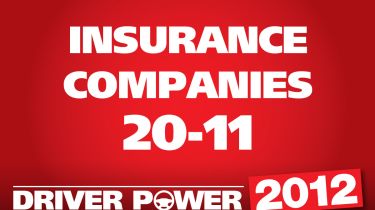 20. Swinton
Overall rating: 75.44%89.3% would renew their current policy
What a fantastic turnaround for Swinton. Last year, you ranked the company second worst for value for money, but this year it managed 25th position in that category. It's impressed you with its customer service as well – you ranked it 15th for communication and 16th for helpfulness and attitude. Not even 29th place for speed of settling claims could stop Swinton squeezing into the top 20. It will need to keep on lowering prices and speeding up its claims process if it wants to avoid a repeat of the eight-place fall it suffered last year, however.
19. Prudential
Overall rating: 76.03%91.8% would renew their current policy
A surprising drop in form for Prudential. The company finished 11th in 2011 and 2010 and ninth in 2009, but customers have complained about a big decline in the level of service over the past year. Traditionally, the Pru has received a mid-table ranking for value for money and scored very highly in terms of communication and helpfulness. But standards have clearly fallen, and while it's to be commended for coming 12th for overall service, there need to be big improvements if Prudential is to regain a place in the top 10.
18. Sainsbury's
Overall rating: 76.04%94.5% would renew their current policy
Sainsbury's finishes three places higher than supermarket rival Tesco in Driver Power this year. The key to its success? Top 20 scores for communication, speed of settling claims and all-important value for money. Customers are clearly impressed with most areas of Sainsbury's service – although staff must improve their helpfulness and attitude if the company is to climb higher up the rankings. But with 94.5 per cent of policyholders saying they'd renew with Sainsbury's, it has every chance of widening the gap to Tesco next year.
17. Allianz
Overall rating: 76.14%92.1% would renew their current policy
Allianz didn't figure in our 2011 survey, but it's certainly made an impact this year. Its service and staff clearly impress you. It's been quick to settle claims, it communicates well, and you've ranked its staff's helpfulness and attitude 12th out of all the brands here. This impressive performance is let down only by a low score for value for money. Clearly, customers resent high premiums no matter how helpful staff are. But, fortunately, this is an easy fix for Allianz – if it can make its prices a little more competitive, it'll see big benefits in our rankings next year.
16. Broker Direct
Overall rating: 76.40%91.7% would renew their current policy
It's another impressive Driver Power debut – this time from Broker Direct, which brings together more than 650 independent brokers. Once again we see a company with a high rating, thanks to some impressive customer service scores, which is ultimately held back by a poor ranking for value for money. Customers are pleased that Broker Direct settles claims quickly, and that staff are helpful and have a good attitude, yet with motoring costs soaring, this isn't enough to justify anything less than highly competitive premiums.
15. Equity Red Star
Overall rating: 76.43%93.9% would renew their current policy
A solid performance sees Equity Red Star retain its 15th place. That proves 2011 – when the company jumped 10 places from 25th – was no blip. It doesn't sell direct to the public, as brokers handle that side of the business. But it's clear that when Equity Red Star does deal with customers, it makes a big effort. High scores for communication and staff helpfulness and attitude show customers feel well looked after. And it has even improved its value for money slightly, moving from 16th to 12th. Now it has to work to speed up its claims process.
14. Churchill
Overall rating: 76.50%95.3% would renew their current policy
Yet again, Churchill has failed to crack the top 10; it's actually slipped back a place in 2012. It was clearly paying attention to us last year when we said it needed to offer customers more for their cash if it wanted to move up the rankings – its value rating has improved from 17th to 13th. Churchill is quick to settle claims, too. Unfortunately, this has come at the expense of worse scores for communication, helpfulness and attitude, and overall service. In order to achieve a top 10 spot next year, the nodding dog will need to improve across the board.
13. Direct Line
Overall rating: 76.65%95.4% would renew their current policy
Car insurers don't come much bigger than Direct Line. The brand has managed to edge one place higher in our rankings, yet it refuses to listen to customers' biggest gripe. We warned it in 2011 and 2010 that it had to offer better value for money – but this is still its Achilles' heel. You ranked it 24th in this category; the same as in 2011. Its communication rating also stayed the same, but it fell five and four places for helpfulness and service respectively. Direct Line stays one place ahead of Churchill only on account of its speed at settling claims.
12. Adrian Flux
Overall rating: 76.89%90.5% would renew their current policy
This is the first year the specialist broker has been outside of the top 10 since 2008. It hunts down cover for owners of classic, modified, imported and performance cars. Its customer service is still impressive – Adrian Flux scored high marks for communication and helpfulness and attitude – but customers have been less impressed with other areas. Its rating for value for money has plummeted from 14th to 22nd, and it could manage only 23rd for its speed in settling claims. High marks for overall service show customers are still impressed, though.
11. Zurich
Overall rating: 77.19%92.7% would renew their current policy
It's been a remarkable rise for Zurich over the past two years. In 2010, the company was near the bottom of the chart, in 33rd position. But it flew 14 places up the table last year, and has cemented those gains with another leap of eight places. Zurich has improved its scores across the board. The addition of an online quotation tool has clearly impressed customers – marks for communication and overall service have both improved substantially. Add a dramatic increase in the value rating (up from 27th to 18th), and Zurich is knocking on the door of the top 10.