Best insurers: 40-31
The insurance companies who scored worst in our Driver Power survey of 29,000 motorists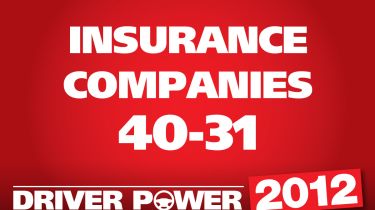 40. Lloyds TSB
Overall rating: 68.72%85.9% would renew their current policy
A shocking performance sees Lloyds TSB plummet to the bottom of our Driver Power rankings. The company has endured a steady decline in customer satisfaction over the past few years – while it finished an impressive ninth in our 2008 survey, it fell to 21st the following year, 20th in 2010 and 32nd in 2011. Wooden spoons in the communication, speed to settle claims and overall service categories ensure the downward trend continues. Lloyds TSB must overhaul every aspect of its service to stand a chance of working its way back up to the top 10.
39. Kwik Fit
Overall rating: 70.17%85.1% would renew their current policy
This five-position slide looks bad, but it's mainly due to the fact that last year's Driver Power consisted of fewer insurers. The good news for Kwik Fit is that it's improved on 2011's last place – but second to last is nothing to celebrate. You ranked the brand worst of all insurers for value for money, and no company can afford to perform poorly in this category at a time when motoring costs are so high. You weren't very impressed with other areas of Kwik Fit's service, either – a lowly 35th position for speed of settling claims was its best result.
38. Endsleigh
Overall rating: 71.12%90.4% would renew their current policy
Endsleigh has been a constant presence at the bottom of our Driver Power insurers' chart over most of the last decade. And poor marks for communication, value for money and overall service have ensured that the situation is no different in 2012. There are signs that service is improving, though – you ranked the company a relatively high 30th inthe speed to settle claims category. And clearly, this efficiency is stopping drivers from switching to a rival, as 90 per cent of customers said they would buy another policy from the company.
37. Post Office
Overall rating: 71.19%82.5% would renew their current policy
One of the biggest fallers in this year's Driver Power chart is the Post Office – it's down by 15 places on its 2011 ranking. So what's gone wrong? Well, customers were disappointed by the helpfulness and attitude of staff – you ranked it worst of all in this category. There were low marks for overall service and speed to settle claims, too. But what really hurt the Post Office is the value for money it offers. Last year, it was 12th in this category, which pulled it up to 22nd overall. This year, though, you haven't been so impressed with the Post Office's prices.
36. Elephant
Overall rating: 72.03%93.3% would renew their current policy
Another big brand that has plummeted from mid-table towards the bottom of the chart over the past 12 months. Web-only insurer Elephant has clearly disappointed you, as you've marked it down in every category compared to its 2011 score. But what bugs you most is the level of communication you receive from the company – it came 19th last year in this category, and a poor 37th in 2012. Elephant will have to redouble its efforts to get back in your good books and recapture the top 20 position it enjoyed in our 2010 rankings.
35: Diamond
Overall rating: 72.09%91.4% would renew their current policy
The female car insurance specialist is a new entry this year, but fails to make much of a dent in the rankings. The website says Diamond believes "there is more to a good deal than just cheap car insurance". Yet its customers don't seem to think the company has delivered even that over the past year. It picked up a lowly 36th ranking for overall service, and you weren't impressed with Diamond's speed when it came to settling claims, its value for money or its staff's helpfulness and attitude. Only a 29th place for communication has kept it above Elephant.
34. Hastings Direct
Overall rating: 72.27%92.3% would renew their current policy
Hastings Direct has traditionally performed reasonably well in our Driver Power chart, coming 19th in 2007, 12th in 2008 and 24th in 2009 and 2010. Last year, it fell close to the bottom of the table, and it hasn't been able to fight its way back up in 2012. Its staff have failed to impress you – which is why the company has come 38th for helpfulness and attitude and 35th for communication. Its best score is for value for money, but 30th place isn't great for a provider that claims to be "winning the battle for cheaper car insurance".
33. Admiral
Overall rating: 72.42%94.8% would renew their current policy
A hefty nine-place fall takes Admiral into the bottom quarter of the table.Customers were critical of every aspect of service, but particularly disappointed with the time it took to settle a claim. It's odd to seea big-name motoring insurance specialist such as Admiral so far down the table when there are supermarkets and breakdown operators – for whom car insurance is more of a side business –competing for top-10 positions. Admiral will need to show it has the service to back up the brand if it wants to be nearer the top next year.
32. More Than
Overall rating: 72.89%92.9% would renew their current policy
More Than is beginning to look a little like a one-trick pony. The only problem is that the company can't seem to decide where its strengths are! Last year, a fair 19th ranking for value for money prevented it falling further than 30th position in the overall chart. This year, it's More Than's speed at settling claims that has impressed. If the insurer could manage to achieve a decent performance in more than one category in a single year it might stand a chance of climbing the table – and regaining a top 20 spot for the first time since 2006.
31. Esure
Overall rating: 73.67%93.7% would renew their current policy
While Esure used to feature regularly in the Driver Power top 20, and even finished seventh in our 2008 survey, those days are long gone. The website says the company's goal is to offer "superior service", but it'll need to work harder if it wants to achieve that. Its communication and the helpfulness and attitude of staff were disappointing; you were more impressed with how quickly it settles claims. You even ranked it 17th in the critical value for money category. Esure clearly has the potential to do better – but it will need to work on its customer service.