Tow Car of the Year 2015
We name Britain's top tow cars across the key classes of the market, before crowning our overall champion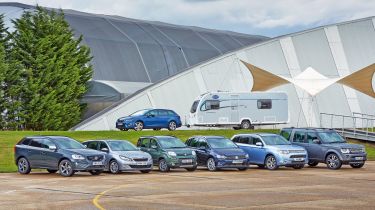 We Brits love caravanning. More and more of us are hitching up to head on holiday – so it's more important than ever to pick the right towcar.
To help make the choice easier, Auto Express has once again teamed up with The Caravan Club to run the rule over the latest contenders. We put 39 cars through the toughest towing tests in the business. 
As in previous years, we split our rivals into six price bands, plus two 4x4 classes for cars up to and over 1,800kg in weight. From our eight category winners, we would crown our Towcar of the Year. Finally, we handed out a Judges' Special Award to a model that stood out for its innovation.
Picking a winner
Once again, our rigorous three-day test was carried out at Millbrook Proving Ground, Beds, using a varied fleet of Bailey caravans.
Ballast was added to each car to represent a family of four, and the vans were loaded to 85 per cent of the towcar's kerbweight. We then set the noseweights (the max load a caravan can put on a towball) to the stipulated limits: five to seven per cent of the van's running weight or the max weight for the coupling head – whichever was lowest. 
The driving assessments were as tough as ever, including laps of Millbrook's two-mile high-speed bowl, where we tested stability at speed, plus the composure of the car and caravan in crosswinds. 
To test handling, we pounded the challenging Alpine hill route. It was here that our judges also did a series of 'getaways' on 14 and 17 per cent inclines, rating the cars' ability to do hill starts and testing their hand, foot and electric parking brakes.
This was followed by an emergency stop from 50mph, plus 30-50mph and 40-60mph acceleration tests that rated overtaking muscle.
Finally, our judging panel looked at each model's 'caravanability', taking into account how easily it swallowed a whole range of holiday gear, from awnings to cool boxes and picnic tables.