Leicester City FC owner treats players to a new BMW i8 each
Leicester's boys in blue are going green after being handed a fleet of 19 £100,000 BMW i8 hybrid supercars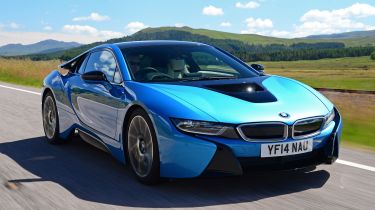 How generous is your boss? Whatever the answer, they probably can't hold a candle to Leicester City chairman Vichai Srivaddhanaprabha, who's just bought 19 of last season's Premier League title winning squad a brand new BMW i8, each! The stunning hybrid supercars are all painted in club-appropriate blue, and retail for just over £100,000 each.
Purchased as a reward for Leicester's brilliantly unexpected title win last season, the fleet of cars worth nearly £2m was lined up outside the King Power Stadium for players to collect.
Originally, Leicester City players were promised a Mercedes B-Class Electric Drive each, but Srivaddhanaprabha pushed the boat out to secure 19 i8s for all but four players. The four who have missed out on a shiny new supercar are Joe Dodoo, Andrej Kramaric, Yohan Benalouane and N'Golo Kante. All of them have moved on to pastures new over the closed season, except Yohan Benalouane who has gone out on loan to Italian side Fiorentina. It seems the chairman's generosity does know some bounds.
The BMW i8 gifts come on top of a £6.5 million bonus fund that will also be split between the squad, so they could probably afford another couple of i8s each to keep the blue ones company on their ample driveways.
Despite the massive expense, it's likely that Srivaddhanaprabha won't have felt too much of a sting in his wallet. With a net worth of over £2 billion, he's the fourth richest man in Thailand and has been known to offer free pies and pints to every Leicester City supporter at home games.
With a 1.5-litre three-cylinder turbocharged engine mated to an electric motor and battery pack, the BMW i8 produces a total of 357bhp and as a result will blast from 0-62mph in just 4.4 seconds. Yet if the players take it easy and make full use of the hybrid technology, they could achieve up to 134.5mpg.
Leicester fans will no doubt be hoping the supercar gifts provide some motivation for the players, as the team needs to put in a top performance against Manchester United in the Community Shield season opener on Sunday, August 7.
Do you think the players deserve their new cars? Let us know in the comments below...