Cadillac XLR Convertible review (2005-2006)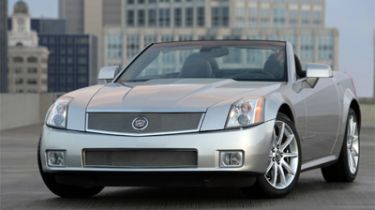 Find your Cadillac XLR
Offers from our trusted partners on this car and its predecessors...
Or are you looking to sell your car?
Advertisement
Cadillac would love to be able to convince British buyers that it's a quality make that sits comfortably alongside Audi, BMW and Mercedes. Its top model, the XLR, is the one they hope will win them a new audience. A concept car that made it through to production, it's a two-seater in the Mercedes SL mould, complete with folding hardtop. That part of the car is awe-inspiring to watch, for the whole back of the car opens up to swallow the two-piece roof - more Star Trek than smooth German efficiency.
The roof is metal but the rest of the car is composite with a style that is edgy and certainly not to everyone's tastes. Even more contentious, and the XLR's real weak point against Euro rivals, is the quality of the interior fixtures and fittings, they just don't measure up. There is, though, plenty of room inside and decent levels of comfort. And it's mighty quick too. The 4.6-litre V8 pumps out over 300bhp, good enough for an electronically limited top speed of 155mph and some blistering acceleration. It's a pity, then, that despite Magnetic Ride Control it's a tough car to drive quickly though corners as the steering feel is too woolly.
Engines, performance and drive
0
MPG, CO2 and Running Costs
0
Interior, design and technology
0
Practicality, comfort and boot space
0