'A new JLR Apple group building petrol, diesel and alternative fuel cars might work'
Mike Rutherford thinks Apple can forget about making its own car, and should instead look at teaming up with an established manufacturer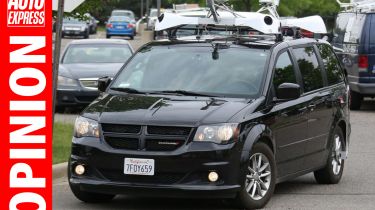 They're hardly my best mates, but I do occasionally hang out with chief executives of motor manufacturing firms.
These are the CEOs whose companies have spent many decades perfecting the art of designing, building, exporting and selling world-class cars to the masses. They have the specialist vehicle manufacturing experience, talent and knowledge. They're on a different level to non car-making folk in other sectors.
But if the CEOs I know best and respect most – Jaguar Land Rover's Ralf Speth, Audi's Rupert Stadler, Citroen's Linda Jackson and Aston Martin's Andy Palmer – told me they aimed to take on and beat the leading phone and computer firms, I'd laugh in their faces.
• Apple Car latest: Apple CEO Tim Cook confirms self-driving tech project
Motor manufacturers dabbling in diversity is fine – thus their bicycles, furniture and clothing. But they know better than to try nicking customers from tech companies. There's almost no high street demand for JLR mobiles, Audi laptops, Citroen desktops or Aston earpieces. Equally, I know of no paying Apple customer who craves an iCar to accompany his iPhone. Why would they? If an Apple phone costs the best part of a grand, its car will be hugely overpriced, too. After all, this is the world's most profitable firm with a weekly return of over $1billion.
It's these excessive sums, earned from 'mug punters' like me over the decades, that have forced me to finally defect from Apple. I now have little interest in buying its products. And I have even less desire to purchase its inevitably expensive, possibly pig-ugly, 'car' (allegedly) of the future.
Why are so many people taking it so seriously? Not a single one has been built/sold – and possibly never will. Thus my scepticism about the hype and prospect of Apple making the transformation from relatively piddly appliances to more complicated all-weather road vehicles.
Just as a top car company would require a partnership with a leading tech firm like Apple to enter the mobile phone market, Apple needs to partner with (or acquire) a cutting-edge motor manufacturer if it's to enter the car game. So I reckon a new Jaguar Land Rover Apple group designing and building petrol, diesel, LPG, electric and other alternative fuel vehicles, with or without drivers, might just work. But only if JLR's fair and reasonable retail pricing policy is maintained, and Apple's unfair and unreasonable one dumped. No company, not even one born and based in money-mad America, needs or deserves profits of $1bn a week.  
Do you agree with Mike? Would you buy an Apple car? Let us know below...