'Why you can't reject a car for fuel economy'
Editor Graham Hope questions why so many cars don't live up to their claimed fuel economy figures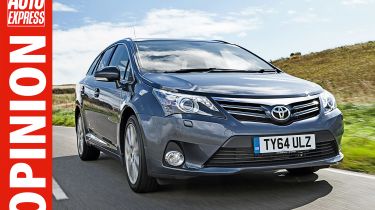 I know from our Driver Power surveys and my E-mail inbox that the most common gripe many of you have with your car is fuel consumption that bears no comparison with the claimed figures.
This week, though, I was contacted by one owner who is so irate at the difference that he wants to reject his car. A seemingly cavalier idea, but I suspect many of you might wonder if this is actually feasible.
The reader in question had meticulously logged his data over the years and was clearly a careful driver. In his Vauxhall Insignia and Ford Mondeo, he'd actually exceeded the claimed economy. But in a Toyota Avensis Tourer diesel (above), the best he'd ever managed was 66 per cent of the claimed 62.8mpg. Grounds to reject, in his opinion.
Of course, such a shortfall isn't unique to Toyota. This tallies with our findings on test this year, where actual economy is typically 60-70 per cent of the claimed figure regardless of bodystyle or brand.
We asked the Motor Ombudsman for its view, and it reiterated that official, lab-produced economy figures are for comparison purposes only and not indicative of what will be produced on the road. Said a spokesman: "Unless the adverts or salesman made some kind of commitment that he'll achieve these figures, then I don't think he could rely on the comparison figures as not being as described." So the short answer is no, rejection isn't feasible.
As the rules stand at present, it's hard to argue with this. But to me, this case again highlights how absurd those rules are. There can be few other industries where buyers are so unclear over the capabilities of the product they're buying.
And that's why we should welcome next month's arrival of the new Worldwide Light vehicles Test Procedure for type approval. Anything that can reduce buyers' confusion has to be a step in the right direction.
Does your car live up to its claimed fuel economy? Let us know in the comments section below...