Smoking in your car could knock £2,000 off its value
Industry experts and recent research indicate that smoking in your car can have a serious impact on its residual value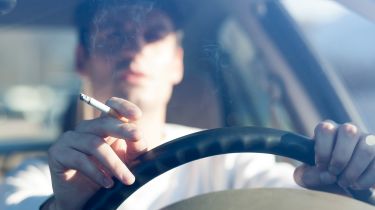 A leading expert in the car valuation world has suggested that drivers who smoke in their cars could be costing themselves thousands of pounds when the time comes to trade in. James Dower, who is the editor of CAP HPI's Black Book (a service many in the motor trade use to value cars) said, "a car driven by a heavy smoker could easily lose up to £2,000 at trade-in".
He also explained that many dealers will automatically reduce the price offered for a part exchange when they find out the car has been smoked in - or in cases of extreme smoking, refuse to buy the car all together.
• Smoking in cars with kids now illegal
The reason is that most car buyers are not interested in putting up with the foul smell, so dealers would be appealing to a much smaller market. This is supported by research from our sister website, Carbuyer, which found that 87 per cent of motorists said they would not buy a used car had it been smoked in.
This is further reinforced by the decrease in people who smoke over the past few years. In the UK, it is estimated that around 16 per cent of the population smoke, whereas back in 2010, it was at around 20% – both of these being well under the record high of 46 per cent in 1976. However, these statistics suggest that around 2 per cent of the population are smokers, but would not consider buying a car which has been smoked in.
Car detailing expert Adam Eaton (who works for car care specialist Gtechniq), claims that a lot of the products offered which are supposed to eradicate the smoke smells are ineffective. He went on to say that removal of smells from cars is no easy task, but the methods he would recommend trying are: wet vacuuming, antibacterial cleaners, and steam cleaning.
While smokers' cars are in the minority on today's market, the reason removing the smell is such an uphill battle is because the smell becomes engrained in the upholstery, and also works its way into the air conditioning system. In the most extreme cases it is easier to replace highly absorbent fabrics such as headlinings and carpets, than spend money on getting them cleaned.
A deep clean for a car can easily reach the £150 mark dependent on size and quality of job done, but add to this the cost of specific sanitisers for cleansing AC systems and steam cleaning for the upholstery and the bill ramps up quickly.
Would you consider buying a smoker's car? Let us know in the comments below...