"F1 needs greater vision and higher entertainment levels"
What can be done to improve F1? Mike Rutherford gives us a number of proposals, which includes ditching cars for running shoes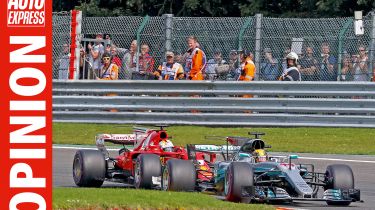 My heart says Sir Stirling Moss is Britain's greatest-ever Formula One driver. But my head knows that it's Lewis Hamilton – by a considerable margin.
Around 160 Brits have competed in F1 over more than half a century, yet Lewis has already earned a quarter of the British wins. But he's nearing retirement. And despite Britain's proud record as the most represented country in the sport, F1 could soon be wholly absent of UK drivers.
There are young guns waiting in the wings, but their entry into the top level of motorsport is uncertain as is their future success. And there are more important headaches for F1 because it's not relevant, exciting, affordable or inclusive enough.
Making F1 track surfaces artificially wet for part of every race is a must. But driverless F1 cars are not, as world-class characters/pantomime villains like Lucid Lewis, Mad Max, Sulky Seb and Fed-up Fernando are an essential part of the show. Just place them on reduced basic salaries, linked to higher cash incentives for pole positions, lap records, podium finishes, race wins and more.
For instance, 'Driver of the Weekend' awards decided by racegoers and/or TV viewers would work well. But the changes can't stop there. If these guys are, as is suggested, the fittest athletes and most talented drivers on the planet (really?), let 'em prove it.
On Friday afternoons, after practice, they could complete at least one timed lap – in running shoes, on bicycles... or both. Then on Saturday afternoons, after qualifying, their diverse driving talents would again be revealed as they'd each race for a lap or three in showroom-spec cars made by those in or about to enter F1 – Ferrari, Mercedes, Renault, Honda, Aston Martin and others. At one grand prix they'd all do battle aboard C-Class Mercs, at the next in Renault ZOEs. Now that I'd pay to see.
The F1 circus is and will continue to be on the road. It just needs greater vision and higher entertainment levels from its ringmasters, plus more time and effort from its performers. C'mon guys – smile;be open to the fans; offer more athleticism; show evidence of how good – or bad – you are behind the wheel of showroom cars we can all relate to. If not, I fear an elitist F1 might go the same way as WWF wrestling and the WRC. Both used to be big and popular on mainstream TV. But not any more. And probably never again.
Do you agree with Mike? Are his solutions the key to improving F1? Let us know below...