"Ruling and opposition parties are doing their bit to ban most cars"
With politicians seemingly trying to ban the car, Mike Rutherford tries his luck with public transport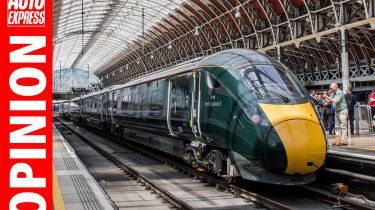 Ruling and opposition politicians make unlikely bedfellows. But collectively they operate a highly effective 'cartel' tasked with expunging motorists.
They do their bit to ban most (ie diesel and petrol) cars, plus drivers, usually the poorer ones who can't afford the newest combustion, 100 per cent electric or hydrogen engines. Hefty tolls/fines to use some cities, tunnels, bridges and roads, plus extortionate on-street parking charges, are the icing on the cake as they chip away at us.
For much of this month and purely in the name of real-world research, I tried public transport. I missed a rush-hour train that left three minutes earlier than scheduled, demonstrating woeful contempt for the official railway timetable and stranded passengers like me. Armed with a pre-paid ticket, I arrived early for an off-peak car ferry. But an attempt was made to punish my premature arrival crime by doubling the fare, despite there being more space on the earlier boat than the later one.
I paid up-front for a National Express coach that failed to turn up, and I'm still fighting for my refund. Check-in staff blaming "computer problems" tried to deny me and my travelling companion access to a BA flight for which we checked in on time and had prepaid/reserved/confirmed seats aboard. Only after protesting were we allowed on. Of course, the plane left late and arrived late.
Mind you, I was one of the luckier air commuters during a month when Monarch collapsed, Ryanair cancelled thousands of flights, and Alitalia and Air Berlin struggled to regain altitude. I've had the displeasure of flying short-haul with all these deeply-flawed airlines and can honestly say that each repeatedly filled me with no confidence.
I saw Transport Secretary Chris Grayling symbolically boarding and promoting one of his heavily-subsidised flagship Hitachi trains, which left late, arrived late and leaked so severely that water-logged passenger seats were decommissioned, leaving Grayling like a drowned rat.
The above are some of the alternative transport modes senior politicians like him expect you and I to endure daily as they continue to cull our cars. Honestly, I don't know what I loathe most: the overwhelming stench of the political hypocrisy or the unmistakable pong from the rotten and expensive alternatives to the car.
Do you agree with Mike? Is public transport a poor alternative to the car? Let us know below...