Majority of drivers believe motorway traffic is getting worse
Survey finds 61 per cent consider UK's motorway network is worse than it was last year; responses tally with official statistics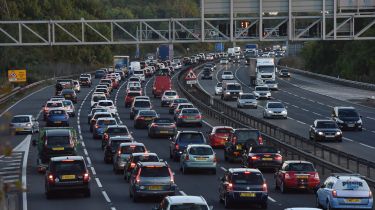 Drivers believe Britain's motorway network is more congested now than it was a year ago, according to a new survey. Over 1,700 people responded to the poll, and of these, 61 per cent felt motorway traffic is worse now than it was at the same stage in 2016.
Those results are in line with official statistics from the Department for Transport (DfT), who reported that 323.7 billion miles were driven on UK roads last year, up 2.2 per cent on 2015 figures.
• Traffic jams costing UK economy £9bn annually
According to the poll, carried out by the RAC, drivers have a clear idea of what should be done in order to tackle motorway traffic. Almost half (48 per cent) want tougher rules introduced to tackle lorries overtaking each other, while 47 per cent said they felt roadworks were a major cause of congestion. 45 per cent cited drivers hogging the middle lane as another cause behind congestion.
Away from the UK's 2,300-mile motorway network, 58 per cent of respondents to the survey felt high-speed dual-carriageways and urban A roads had become more congested over the last 12 months. 55 per cent said traffic on urban B roads and other urban roads had also got worse.
Blame for congestion in our towns and cities was laid at the feet of bus lanes by 29 per cent of those responding to the survey, with 16 per cent feeling cycle lanes made traffic worse. Of those who felt cycle lanes were to blame for poor urban traffic, the majority (54 per cent) said cyclists should be forced to use cycle lanes in areas where these were available.
David Bizley, the RAC's chief engineer, said Highways England should be doing more to speed up strategic road improvements, which have recently been hit by delays. "With unwelcome evidence of increased congestion, it is essential that the schemes to increase capacity of the strategic road network which form part of the first Road Investment Strategy are delivered to plan.
"The recent news from Highways England that some projects have been delayed is therefore very unwelcome."
A Highways England spokesperson responded by saying: "Rescheduling some of our work was a sensible and responsible way to deliver major national investment in road infrastructure [and] we will continue to deliver schemes that make a positive impact on people's lives, the economy and the country as a whole."
A Department for Transport representative echoed Highways England's position, highlighting: "This Government is investing a record £23 billion in our roads to improve journeys for motorists - the biggest investment in a generation. "We are also giving councils record amounts of capital funding - more than £7.1 billion up to 2021."
Is congestion getting worse in your area? Tell us about it in the comments area below...