Cars could report potholes under Government plans
Highways England suggests motorway potholes could be flagged for repair by smart vehicles, plus drones could be used to relay incidents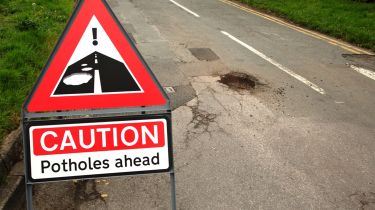 Cars could soon report motorway potholes for repair and drones could be used to relay vital traffic information, under plans unveiled today in a new Government report.
Highways England's Strategic Road Network report sets out a raft of recommendations for Britain's roads, including the continued expansion of the UK's 'smart' motorway network, turning a number of A roads into motorway-like 'expressways', and using connected vehicles and drones to report road and traffic issues respectively.
The report says connected and autonomous vehicles are "Widely seen as one of the most significant and potentially disruptive changes in future personal mobility" and that in the future they could "report potholes, uploading data on the location and severity of the pothole, which is then shared with the local maintainers and even other connected vehicles, to help them avoid it."
The report also highlights Highways England is "currently trialling drones to inspect structures" and suggests "such technology could also be used to improve response times, for example for a first assessment of incidents or for traffic monitoring."
Other plans set out in the report include embedding sunflower oil microcapsules into new road surfaces, enabling them to "self-repair" when damaged, "phasing out internal combustion" engines - as was recently announced - "achieving a near-zero disruption [road] network" and installing "sufficient rapid charging points with 95% of the network planned to be within 20 miles of a charging point by the end of 2018-19".
The report will influence the Government's next road investment strategy, which starts in 2020.
Is using connected vehicles to report road and traffic issues a good idea? Let us know below...