20mph zones can see roads become more dangerous
Study also reveals average speed reduction brought about by 20mph limits is just 1.3mph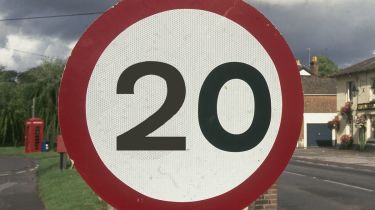 Research has revealed the introduction of 20mph speed limits can actually see roads become more dangerous in some cases.
Bath and North East Somerset Council conducted a review of areas in which it had implemented 20mph zones, and found the rate of people killed or seriously injured had increased in seven of the 13 areas studied.
• 80 per cent of drivers ignore 20mph limits
The study says there is "no simple explanation" for the increase in casualties, but suggests: "It could be that local people perceive the area to be safer due to the presence of the 20mph restrictions and thus are less diligent when walking and crossing roads, cycling or otherwise travelling".
Although an experimental control zone – where a 20mph had not been introduced – also saw an increase in the rate of road users killed or seriously injured, only three of the 13 areas saw a reduction in the rates of people killed or seriously injured following the introduction of 20mph zones. All four of the rural areas studied saw a greater number of total casualties in a 12 month period.
Researchers also noted the average reduction in speed brought about by their introduction was just 1.3mph, and said there is "little in the way of persuasive argument for continuing the [20mph] programme into the future".
Bath and North East Somerset council has introduced 20mph speed limits on 1,499 roads since 2011 at a cost of £871,000. Deputy council leader Patrick Anketell-Jones said it was unlikely the zones would be removed, though: "It has cost over £800,000 to roll out the 20mph zones and it would probably cost the same to reverse them. We just haven't got the money."
Are you for or against 20mph speed limits? Join the debate in the comments section below...