'After 50 years, Gordon Murray is still hungry for success'
Mike Rutherford chats to legendary designer Gordon Murray about his favourite cars, drivers, and much more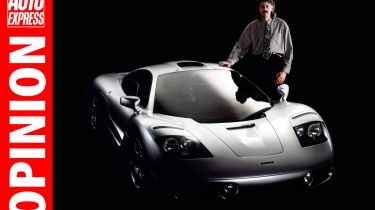 Very few hands-on individuals have straddled the road car and race car industries, and been monumentally successful in both camps. Enzo Ferrari was. Colin Chapman was. Professor Gordon Murray is. The latter's career has spanned 50 years, yet he still looks, talks and performs more like a hungry-for-success upstart than the legendary veteran designer/engineer/car builder he can't stop being.
Murray's a malcontent who's the Ultimate Car Dude of the half-century just gone. He's based in leafy Surrey, where his office-cum-studio is attached to his state-of-the-art factory, featuring its unique i-Stream production line. It was here that One Formula, the exhibition of 2017, was held. Before that, though, here's a personal insight into the Prof's preferred products, people, pastimes and places.
• Gordon Murray Automotive announces IGM supercar
Favourite road and race car? "Lotus Elan and Brabham BT44," he tells me, without hesitation. Drivers? "Nelson Piquet was my favourite to work with, but if we're talking ANY driver from ANY era, then Jim Clark." Circuit? "Er, Spa...of course." Type of motorsport? "Motorcycle racing; in particular, MotoGP and TT." Car company? "Over time, Lotus."
F1 outfit, past or present? "That would have to be Brabham." Preferred mode of transport on an ideal day? "A classic, rather than a current car; although 20 years ago I would have probably nominated a motorcycle." Road car guy? "Dante Giacosa," he says, as if paying respects to a god. F1 person? "It's probably Bernie. We had so much fun together," although he concedes that he and Ecclestone fell out in 1986... over money!
Gordon's favourite book is Island of Wings. His preferred song to drive to is Sweet Home Alabama. "While I'm driving, I dislike albums so much because when a bum track comes on..." he shakes his head in despair. Then he explains he's a serial maker of driving compilations.
His favourite road car design? "For me, design is the engineering, the dirty bits. And styling is the outside, the look of the car. If it's that [exterior styling] you want my opinion on, it's the Alfa 33 Stradale."
Who are we to argue with Ultimate Car Dude, 1967-2017? He's the hardest-working, cleverest and most inspirational motorsport-cum-vehicle design and production guy of the last 50 years.
What do you make of Gordon Murray's favourites? Let us know in the comments section!