Police take inconsistent approach to monitoring drink drivers
Exclusive investigation reveals only some police forces place intelligence markers on all disqualified drivers' cars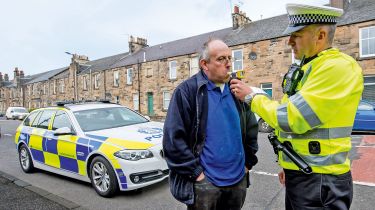 Drivers previously disqualified for drink-driving may be issued with a 'marker' on their car depending on where they live, Auto Express can reveal, after an investigation found Britain's police forces differ in their monitoring of convicted motorists.
If officers have previously linked an individual to a crime, then a digital 'intelligence marker' can be attached to their vehicles. Automatic Number Plate Recognition (ANPR) cameras can then alert police to the driver's status to help them better target known offenders.
• UK's drink driving hotspots revealed
But Freedom of Information requests to the 44 British police forces revealed that only some follow the practice.
This is despite previous research finding 12 per cent of drink-drivers re-offend, rising to 30 per cent for high-risk offenders (those caught
at more than twice the legal limit).
Cheshire police, for example, has 1,041 active markers, creating an 'intelligence slide' for every disqualified driver containing "personal details and any vehicle registered to them at the time of disqualification." Official records reveal 57 per cent of all disqualified drivers in Cheshire from 2014 to 2016 lost their licence for drink-drive offences, suggesting 600 of the force's markers relate to this offence.
Merseyside police has a similar policy, revealing: "marker[s] will be attached once the individual is convicted and/or disqualified from driving", while Cleveland police said 9.5 per cent of its "vehicle of interest" list is populated by vehicles linked to drink driving.
• What is the drink-drive limit?
But Cheshire and Merseyside's policies are in contrast to the Metropolitan and City of London police forces, both of whom said they don't attach intelligence markers to drink drive convicts' cars, and have no active markers as a result - though the Met subsequently clarified it would create a marker if there were "credible intelligence" someone was driving while disqualified.
The majority of police forces take a similar approach: West Yorkshire police, for example, said it did not consider attaching markers to all drink drivers to be "justified and proportionate", and had 80 drink drive markers at the time of our request.
Buying a 'marked' second-hand car from a convicted drink driver shouldn't mean being pulled over frequently, however. Police have processes in place for 'weeding' out-dated markers, with some forces even linking their systems to DVLA records.
Responding to our investigation, Edmund King, president of the AA, said: "l If the evidence suggests that
a driver is likely to re-offend then they should be targeted in the same way that a known burglar may be targeted if there is a spate of burglaries. The objective should be to stop re-offending."
| | | |
| --- | --- | --- |
| Rank | Force | Active markers |
| 1 | Cheshire | 1,041* |
| 2 | Derbyshire | 100 |
| 3 | Dorset | 92 |
| 4 | Dyfed-Powys | 88 |
| 5 | West Yorkshire | 80 |
| 6 | Police Scotland | 76 |
| 7 | Northamptonshire | 76** |
| 8 | Lincolnshire | 69 |
| 9 | Humberside | 67 |
| 10 | Surrey | 48 |
* Relates to all disqualified drivers** Relates to drink and drug driving offences
Should the police be doing more to prevent drink driving? Let us know below...