'How updated MINI is flying flag for Britain'
Should Union flag tail-lights be the only option for facelifted MINI buyers in the UK? Editor Graham Hope looks at the pros and cons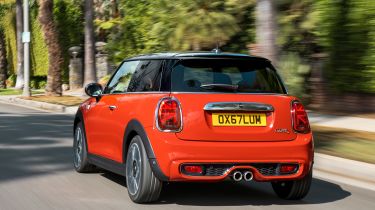 I can think of no better way of starting a new year than by celebrating the arrival of the latest version of one of the British car industry's most enduring icons, the MINI.
A combination of appealing design tweaks, some interesting tech and improved infotainment should ensure that the success story continues for a brand that's been revitalised under BMW.
• New facelifted MINI hatch and Convertible revealed for 2018
One of the tech advances that MINI is keen to highlight is the standard fitment of front and rear LED lights, a first for the class. But it's the design that is certain to catch the eye. As you can see from our picture above, the rear light represents a subtle but unmistakable rendering of the Union flag.
It's no surprise really, given that this look was trialled on a couple of concepts last year and, I'm told, got an "overwhelmingly positive" response from MINI fans. Our flag is also hugely popular abroad.
What did take me aback, though, was the news that this is standard and the "only option" for  UK buyers. Isn't this an unnecessarily bold strategy?
No one could accuse us of being unpatriotic here at Auto Express. Nobody backs the UK industry more. But all corners of Great Britain and Northern Ireland are represented in our editorial team, which makes us acutely aware that the Union flag doesn't hold universal appeal in all parts of the country.
• MINI revolution: reinventing the most famous small car in the world
MINI is clearly aware of the sensitivities around this, as I'm told buyers in the Republic of Ireland will have the option of choosing halogen lights rather than LEDs, which have a conventional design. That makes it all the more surprising to me that the option won't be available in the UK, too.
Personally, I think MINI is right to celebrate its Britishness in this way. Why not? But some will disagree, and I'd have thought an additional alternative offering might have been a wise move.
Do you think Union flag tail-lights are a good move by MINI? Let us know below...