'A 4x4s is necessary for sub-zero work, but so is the correct winter kit'
Drivers should heed winter driving advice and take every possible precaution on the road, argues Mike Rutherford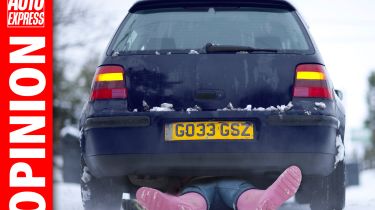 When I was a brave young thing I drove from London to Toronto via the Faroe Islands, Iceland and Greenland. Separately, I spent weeks driving on the frozen lakes and seas of northern Scandinavia. But the drive of my life was up the frozen MacKenzie River to Tuktoyaktuk, one of the last Inuit hamlets at the top of the world.
Such adventures leave me in no doubt that Land Rovers, Jeeps and Volvos are, in that order, the most capable 4x4s for seriously sub-zero work. But equally important is the winter kit inside the car of choice, together with your clothes, headgear and footwear.
In Britain, January's the worst month for low temperatures and tricky driving conditions. Don't entirely dismiss the tired old advice from the motoring organisations who bang on about the importance of carrying a blanket, water and bar of chocolate. Instead, expand on it. A sleeping bag, selection of cold and hot drinks, plus a varied box of comforting and nutritious foods are a better bet.
Especially if you're snowed in at the roadside overnight. But your car as an emergency hotel room isn't a problem if you're appropriately tooled up. Thermos-style mugs and flasks are a must; portable electric kettles that plug into the dash are hopeless. A better provider of hot water is a camping stove and gas canister – to be used outside the vehicle.
Apart from obvious essentials such as gallons of fuel, tyres of the right type/pressure, mobile phones and chargers, don't forget the less obvious. A portable AM/FM radio will update you on road and weather conditions should your car battery expire. Energy-saving LED torches are a godsend. As are hoodies, scarves cum face masks, gloves (but NOT for driving), lightweight insulated jackets with deep pockets, hi-viz vests stored under front seats, plus a small selection of hats and hoods, boots or shoes in the luggage compartment.
When I was up in Sweden with Volvo's test drivers, their waterproof boots were purely for walking to and from cars, not driving them. Carpet slippers with thin rubber soles are their preferred winter driving shoes, believe it or not. Give 'em a go. My scariest ever incident in the frozen north? The deep mid-winter night on the wrong side of Detroit when I had no choice but to hail an iffy taxi whose Jack Nicholson-like driver had a Siberian Husky alongside him. "When the weather's bad he'll haul this cab out of the snow," the lunatic assured me. "And when it's really bad, he can't tow me out and if I'm starving to death I can always eat the dog." Obviously, this taxi driver wasn't aware of the AA's winter instruction to carry a bar of life-saving chocolate in the glovebox.
Where's the most adventurous place you've driven? Tell us about it in the comments area!