Union urges Ford to convert UK diesel plants to build electric cars
Unite union says Dagenham and Bridgend plants "must be repurposed" to build electric models and battery tech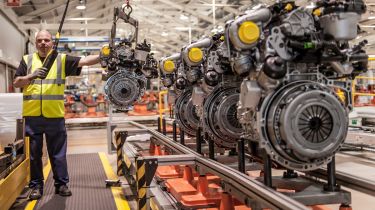 A leading trade union has urged Ford to adapt two of its key engine manufacturing plants to make batteries and components for electric vehicles.
The call comes after diesel sales fell by 17 per cent in 2017, while Jaguar Land Rover - which currently builds some of its engines at Ford's Bridgend plant - plans to shift production away from there in 2020.
• Best selling cars in the UK 2018
The Unite union is due to publish a new manufacturing strategy shortly, which will say Ford's Bridgend and Dagenham plants must "be repurposed for new electric models or battery technology".
A previous document from the union said it "supports the wider transition from ICE [internal combustion engine] vehicles to EVs [electric vehicles], provided it is managed justly to defend employment".
Ford's Dagenham plant currently produces diesel engines for the Fiesta, Focus, C-MAX and EcoSport, as well manufacturing 1.8-litre and 2.2-litre diesel engines for the Transit van range.
A spokesman for Ford said: "While Ford Bridgend Engine Plant has a long-established and successful record in the delivery of world-class engines, the auto industry is undergoing rapid change and, together with our union partners, we continue to look at other opportunities for the future."
The company also highlighted that production at Dagenham increased by 1.3 per cent in 2017, while Ford's new range of EcoBlue diesel engines is scheduled to begin at the factory next quarter.
What do you think should happen to Ford's Bridgend and Dagenham plants? Mike Rutherford reckons Ford should make EV tech outside of London…