Power chief warns electric car charging may lead to blackouts
Scottish energy manager says electric vehicle charging could cause blackouts if network investment is held back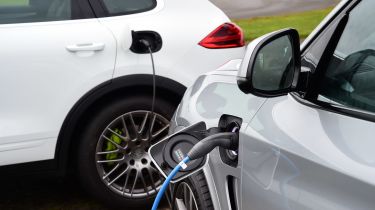 The growing popularity of electric cars could lead to blackouts if proper investment is not made in the electricity network, a leading energy boss has warned.
Scott Mathieson, senior manager at SP Energy Networks, an energy network operator responsible for infrastructure in parts of Scotland, Wales, Cheshire and Shropshire, has cautioned that the extra demand recharging electric cars could place on the network, may cause serious issues. "As the system is pushed beyond maximum capacity, the risk of local blackouts and safety concerns could become a reality" if operators are "prevented from undertaking sufficient investment", Mathieson said.
• UK petrol and diesel prices: tank of petrol goes up £7 in a year
In a letter written to the executive director of Ofgem, the government regulator for electricity and gas markets, Mathieson warned those living in the countryside were most at risk of blackouts: "As the penetration of electric vehicles increases, the impact of being off-supply would be felt more acutely by rural customers, with Scotland having a disproportionate number."
Mathieson's letter, seen by the Sunday Mail, also warns owners of electric cars could be stranded if the power network fails. "If those customers are off-supply and they rely on their electricity to power transport, then they would be incredibly isolated and vulnerable. We want to avoid a situation where these customers have no transport to remove themselves from dangerous situations."
One of Ofgem's responsibilities is to ensure energy customers do not face excessive bills, and the regulator sets limits on how much return on investment energy companies can make from consumer charges. Previous research by Ofgem found if 40 per cent of current car owners buy an electric vehicle, almost a third of all low voltage networks (which carry power from transformers to homes) would have to be upgraded.
An Ofgem spokesperson said the organisation is "considering funding ­arrangements for the next set of price controls that will run from 2021 and developing incentives to encourage users to be flexible about when to charge their electric vehicles.
We will continue to work with ­government and industry to ensure the right regulation is in place to support increasing electric vehicle use, maintain a reliable network and ensure energy system costs are spread fairly."
Are potential electricity shortages holding you back from buying an electric car? Let us know in the comments below...