The Volvo Selekt difference (sponsored)
Find out more about the Volvo Selekt Approved Used Car programme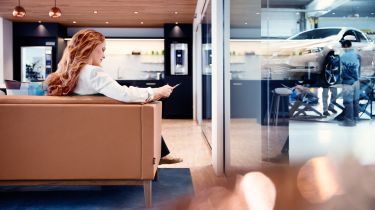 In partnership with

There are always appealing cars available on the used market. High-performance or premium models especially look really temptingly priced when compared with what they cost brand new. Keen enthusiasts love to browse and buy these cars, but they can be off-putting to the rest of us, as any price savings could be wiped out by hidden costs or problems down the line.
But you can banish these worries with the Volvo Selekt Approved Used Car programme. It offers a wide range of cars, from a few years to just a few months old, backed up by the sort of aftersales peace of mind usually associated with buying new. So if you want an SUV, but thought you could only afford a hatchback, Volvo Selekt could make your dream a reality.
The programme can also allow those considering buying a brand new car to upgrade to something with a higher specification while staying within their budget. Either way, you're getting the satisfaction of a great-value price with the additional reassurance that the car has been inspected according to Volvo's exacting standards.
Taking one example, the current Volvo V40 range begins with the D2 diesel-engined Momentum model, priced at just over £23,000. For that same price, the Volvo Selekt Approved Used Car programme can offer a top-of-the-range V40 R-Design Pro, fitted with a more powerful engine and offering more standard equipment, plus sportier looks inside and out.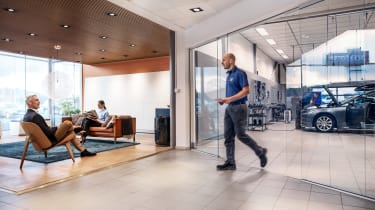 At the time of writing, we found three great examples of R-Design Pro V40s on the Volvo Selekt Approved Used Car website: a manual D3 diesel, an automatic D4 diesel and a T5 petrol, all 2017-registered and with only a few thousand miles on the clock. The R-Design Pro spec list includes sat nav, cruise control, leather-faced upholstery, rain-sensing wipers, R-Design exterior styling enhancement, 18-inch alloys, an adjustable front central armrest and sports seats.
As with all vehicles in the Volvo Selekt Approved Used Car programme, these V40 R-Designs will have gone through a comprehensive 100-point inspection, carried out by highly trained Volvo technical staff, before being put on sale. They also benefit from a 12-month unlimited-mileage warranty on mechanical and electrical parts, plus 12 months of Volvo Assistance breakdown cover (roadside and home) and MoT test cover. And, as an ultimate guarantee, if you're not satisfied with a Volvo Selekt Approved Used Car purchase, you can return it to the retailer to be exchanged for another car of equivalent value within 30 days or 1,500 miles' driving.
So, with a Volvo Selekt Approved Used Car, you can enjoy the best of both worlds: a more stylish and better equipped car than you might have been able to afford new, plus the peace of mind that comes with the programme's extensive list of benefits and guarantees.
Take our quick survey on cars for a chance to win 1 of 3  £50 John Lewis vouchers.
Find out more about the Volvo Selekt Approved Used Car programme.
Take our quick survey on cars for a chance to win 1 of 3 £50 John Lewis vouchers