First public EV charging lamp posts installed in London
Southwark Council is installing 50 char.gy points in lamp posts around Bankside and Dulwich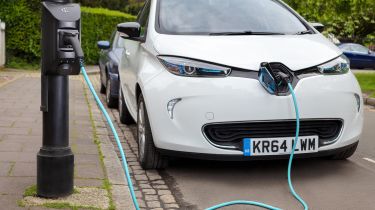 Southwark has become the first London borough to equip lamp posts with public EV (electric vehicle) charging points.
• Electric car charging in the UK
Lamp post charge point supplier char.gy is supplying 50 of the points that the local authority will install across two areas of the borough – Bankside and Dulwich. 
The first point has already opened on Holmdene Avenue in Herne Hill and the rest will be installed with £300,000 of funding won by Southwark Council from the Go Ultra Low City Scheme.
The points can charge at rates up to 7.7kW, will all be publicly accessible and do not require an RFID smartcard, membership or a special type of cable.
Users of the Southwark posts are able to plug in a standard Type 2 cable and then use their smartphone's browser to select how they want to pay – either on a pay-as-you-go basis or with one of a selection of package tariffs.
As they're built into lamp posts, the charge points tap into the street-lighting network for their electricity, so there is no need for an additional power supply to be installed.
Kensington and Chelsea already has 62 lamp post chargers, but these can only charge at rates up to 3kW, and require EV owners to purchase a metered charging cable, so are not considered truly 'public' as a result.
• Best electric cars to buy 2018
Southwark Council asked residents if they would like the charge points installed on the lamp posts on their streets. Those who said yes have been prioritised to have them fitted first.
Richard Stobart, CEO of char.gy, said the company was "very excited to launch the first-ever open and publicly accessible lamp post EV charging units on the streets of London".
He added that the char.gy's aim is to make "charging your car as convenient as charging your phone at home while sleeping".
The company says a convenient means of on-street charging is a necessity for the continued uptake of EVs, as 78 per cent of households in London do not have off-street parking.
Cllr Richard Livingstone, Southwark Council's cabinet member for the environment, transport management and air quality, added that the new charge points will make "it easier than ever for people who live in Southwark to make the switch to electric vehicles".
Head of Go Ultra Low Poppy Welch commented: "It's great to see the work Southwark Council, a beneficiary of the Go Ultra Low City Scheme, is doing to allow people without off-street parking the ability to charge at home."
Welch explained that the Government is investing £4.5 million in on-street residential charge points before 2020 and wants to see "all new street lighting columns include charging points, where appropriately located, in residential areas with current on-street parking".
Do you think EV charging in lamp posts is a good idea? Let us know your thoughts below in the comments...