'Motor shows will never die, despite what everyone thinks'
Mike Rutherford thinks motor shows are not dead just yet and are, in fact, even more important in this day and age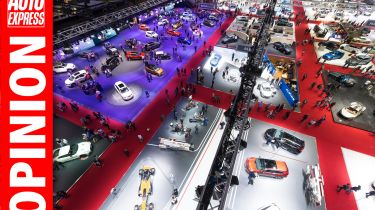 Whether it's the financial website of the year in London or the world's leading auto industry magazine over in Detroit, the same question is being provocatively asked over and over: are motor shows dead? In a word, no.
Like cars, and the growing volumes of people using them in all corners of the developed and developing world, auto exhibitions aren't going away. You're kidding yourself if you think otherwise.
Billions of people use cars daily, either as drivers or passengers. Of those, close to 100 million (and rising) sign up for brand-new vehicles each year. These are the comparatively wealthy folk who want to, need to and deserve to have the opportunity to see, smell and climb in and out of the models they've shortlisted and are thinking of buying or leasing. For back-to-back, try-it-on-and-see-if-it-fits, touchy-feely comparison purposes, competing cars from rival brands all need to be there, in the metal, at the same venue: the indoor or outdoor, static or moving, motor show.
For those and other no-brainer reasons, today's domestic and international exhibitions are as – if not more – relevant, important and alive as ever. There are a few exceptions to that general rule: the ailing Detroit event (wrong on so many levels, I regret to say) is one example. The British Motor Show is another (but it has at least been replaced by the London Motor & Tech Show at the ExCeL Arena).
It's true that when the 2018/19 auto exhibition season kicked off in now anti-car Paris this autumn, it was a bit flat, and there were some no-show firms. But the event worked for the makers and show-goers who turned up and got stuck in. And there are other, even better events looming, including LA next week, Geneva in March, New York in April and Tokyo next autumn. Again, a tiny minority of short-sighted (or are they just lazy?) 'world-class' manufacturers will, in effect, boycott one or more of these gatherings that are among the biggest, best and most essential motor shows on earth. In doing so, they'll be as daft as the planet's most talented racing drivers boycotting Formula One.
Manufacturers who are auto-exhibition absentees need to think things through a little deeper, improve their efficiency and spend their motor-show money more wisely.
Smart, confident, on-form outfits such as the Peugeot-Citroen sisters have worked out halving their multi-million-pound spending on their respective stands doesn't matter a damn because – surprise, surprise – punters and press come to see cars, not the sometimes gratuitously over-the-top edifices they're parked on or in.
Even Volkswagen chairman Herbert Diess seems to be coming around to my view that car exhibitions are alive, well and kicking, ta very much. A few months ago Diess was widely reported as saying "motor shows are dead". But he couldn't have been more wrong. And I can prove it by telling you that not only will VW rock up at the LA Auto Show, but it and sidekick firm Audi will have stands there, as well as staging press conferences, plus other events. The death of the motor show has been greatly exaggerated. Hasn't it, Herbert?
Do you agree with Mike that motorshows are not dead, or do you believe they are not fit for the 21st century any longer? Let us know in the comments below...