Why company car drivers are going electric
Switched-on company car drivers are seeing the benefits of running the Volkswagen e-Golf over the mainstream alternatives
What makes the perfect company car? This is one of the most challenging briefs to fulfil. On the one hand it must satisfy the highly-trained eye of the fleet manager and their spreadsheet, honed to evaluate a vehicle by its performance, residual values and P11D values in search of the most tax-efficient means of mobilising an employee.
Yet that same car must also reward its user by being desirable, a pleasure to drive and practical, while still impacting as little as possible on the employee's wallet. No other vehicle has to meet such a demanding set of criteria, and all on a strict budget.
As a result, only the best performers make the grade, and with the goalposts frequently shifted by Government influence and rolling changes to the taxation system, there is a constant pressure to find the next big thing. And for an ever-growing band of forward-looking company car drivers, that car is the Volkswagen e-Golf.
Savings from the start
The e-Golf shares all the qualities and attributes of the conventionally-powered Golf with its modern, high-quality design inside and out, cutting-edge connectivity and safety technologies, impressive practicality and dynamic driving experience. But it adds an extra level of appeal thanks to the latest-generation electric drivetrain, delivering silent, efficient and green performance, and providing significant financial benefits.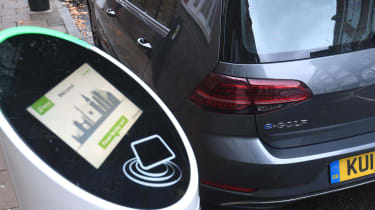 Take a look at the e-Golf purely from a taxation perspective and it's not hard to see why it has become such a popular choice. A 20% basic-rate taxpayer faces a bill of just £850 for the 2018/19 tax year because the e-Golf currently attracts a Benefit-in-Kind (BiK) rate of only 13%, and thanks to its 0g/km emissions it has minimised the effect of recent changes to the taxation system.
Better still, under the new company car taxation plan announced for 2020/21, the e-Golf will have a BiK rate of just 2% – that's the equivalent of only £261 for the year, and represents a saving of over 30% compared to today. A car that will become cheaper to tax over time is hard to overlook.
In addition, cost-conscious company car users are enjoying the benefits the e-Golf brings to their daily motoring bills. Based on an average overnight electricity price of 16p per kWh, charging an e-Golf fully at home can cost just over £3 – that translates to just over 2 pence per mile, versus more than double that amount for conventionally-powered vehicles.
There are Government incentives to help businesses persuade their fleet drivers to switch, too, with the Workplace Charging Scheme providing assistance for businesses to install permanent charging stations and a matching homecharge scheme encouraging electric company car owners to save up to £500 on installation.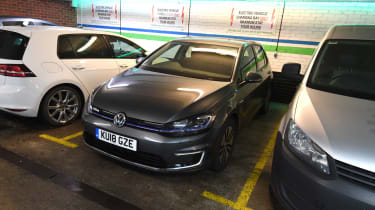 Throw in the fact that a business buying an e-Golf can write down 100% of the eligible value in the first year, thanks to higher capital allowances, and there's a strong financial argument in its favour.
The easy life
Company car drivers and fleet managers love the e-Golf's servicing programme, too. Forget about oil changes, spark plugs and a host of other moving mechanical parts that can wear out and need replacing.
Partnership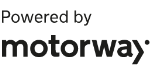 Need to sell your car?
Find your best offer from over 5,000+ dealers. It's that easy.
The e-Golf won't have to visit a dealership for routine maintenance before 18,000 miles or 24 months, and after that check-ups are only required every 18,000 miles or 12 months, whichever occurs first. Far fewer consumables are needed at each service, too, and that's likely to mean lower bills.
No question then that fleet managers are seeing the benefits of the e-Golf, but that matters little to the company car driver who will be behind the wheel for many thousands of miles. Happily this car is so much more than a regular Golf, with its core-deep qualities enhanced by its electric propulsion and forward-thinking approach.
The basic elements are reassuringly familiar, as you would find with any Golf model. The exterior is a lesson in the solid, elegant design that has become a hallmark of generations but with a series of subtle, unique additions exclusive to the e-Golf – notably the discreet flicks of blue trim that pick out the grille and LED headlights, a bespoke rear bumper and 16-inch alloy wheels, the latter specifically designed to suit the e-Golf's aesthetic and improve aerodynamic efficiency.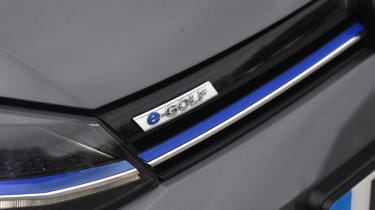 The same goes for the e-Golf's interior, which is as spacious as in other five-door Golf models and offers a generous 341-litre boot, all surrounded by the intelligent design and high-quality materials that make for such an inviting environment. Once again blue flashes are a subtle reminder of the powertrain, while a unique instrument display provides a constant flow of information regarding the operation of the battery and electric motors as well as the charge condition.
A Golf to the core
All that comes before the driver gets to experience the highlight of e-Golf ownership: the driving experience. A comfortable ride and agile handling are expected and delivered, but the serenity of a near-silent powertrain has to be experienced to be believed, as does the calming effect it has on the vehicle occupants.
Refinement is exceptional, making the e-Golf feel like a considerably more expensive machine, but that is not to the detriment of performance. Thanks to the 136PS electric motor, the e-Golf can reach 62mph from rest in 9.6 seconds – more than quick enough for any urban excursion – yet it is capable of a 144-mile range under WLTP testing.
A conventionally-powered company car usually demands a compromise between the cost of ownership and the pleasure of running it. The e-Golf is the answer to this compromise, delivering taxation and cost benefits far in excess of any combustion-powered alternative in a package that provides a unique and rewarding driving and ownership experience. The future of company cars is here now.
For more information on the Volkswagen e-Golf, visit volkswagen.co.uk