Ford shows-off its Robutt, a sweaty robotic bottom to test seats
'Robutt' mimics the action of someone getting into their car and driving after taking part in sweat-inducing physical exercise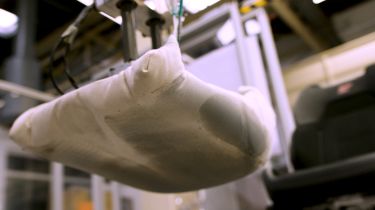 Ford has developed a special robotic bottom to ensure the seats in its cars are able to resist damage from sweat.
The device, which the American manufacturer has dubbed 'Robutt', simulates the action of someone getting into a car and driving home after having broken into a sweat due to taking part in a form of physical activity, such as going to the gym or playing sports.
• Nissan's sweat-sensing car seats to spot dehydrated drivers
Based on the dimensions of a large man, the Robutt is heated to 36 degrees Celsius and soaked with 450 millilitres of water, which will then leach into the seat material.
Ford guarantees the materials in its seats can withstand at least a decade of regular dry wear and tear, but this latest invention is designed to make sure sweat won't pose a problem either.
• Kids' car seats carry more germs than average toilet
The testing condenses a full 10 years of use into just three days, in which time the Robutt sits, bounces and twists in a seat 7,500 times.
The Robutt was originally introduced in 2018 to test the Fiesta's seats and has now been rolled out for use on all Ford models in Europe.
Florian Rowher, development engineer at Ford of Europe's body and chassis labs, commented: "Cars are a part of our everyday lives and, at this time of year in particular, so is exercise. The 'Robutt' is a great way to check our seats will look good for years to come."
The Robutt is the latest in a line of wacky Ford inventions, including a system to get rid of new car smell – which is disliked by Chinese buyers – by automatically driving itself to a sunny spot, opening its windows and running its heating and ventilation systems.
Is Robutt a good idea or are the cracks starting to appear in Ford's product development division? Have your say in the comments...