Hispano Suiza Carmen Boulogne launched with 1,100bhp
It's an evolution of the Spanish brand's current all electric sports car – the Carmen – and pays homage to Hispano Suiza's racing heritage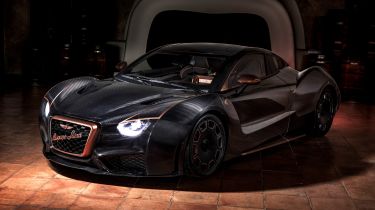 Hispano Suiza has launched the Carmen Boulogne. It's a sportier evolution of the Spanish brand's existing Carmen hypercar that features a more powerful electric drivetrain, a higher top speed and a lower kerbweight. Its price-tag has also been revised, from £1.5 million to £1.65 million excluding taxes.
The basic styling hasn't changed dramatically since we first saw the car at the 2019 Geneva Motor Show. There's a fresh set of staggered alloy wheels, with 19-inch units on the front axle and 20-inch units at the rear. Hispano Suiza has also removed the Carmen's paint and replaced it with clear coat varnish and added a copper-coloured livery, which highlights the car's body lines and intakes.
• Best electric cars on sale now
Like the standard Hispano Suiza Carmen, the Boulogne is powered by two electric motors, mounted on the rear axle – although this new model has almost 100bhp more than the standard car, with output rising from 1,006bhp to 1,098bhp. There's also a healthy 1,600Nm of torque on tap, which means the hypercar's top speed has increased by 25mph to 180mph and its 0–62mph time has fallen to just 2.6 seconds.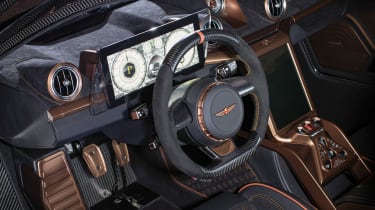 This acceleration is aided by Hispano Suiza's extensive weight-saving measures. The Boulogne is 60kg lighter than the standard Carmen, due to a lighter suspension system, a new carbon fibre roof, a new sub-chassis and a handful of frugally designed CNC components. The basic car's carbon fibre monocoque is also incredibly light, tipping the scales at only 195kg. 
Also like the standard car, the Carmen Bologne is powered by an 80kWh lithium-ion battery pack, which offers a maximum claimed range of 248.5 miles under the outmoded NEDC test programme. The battery pack also offers support for DC fast-charging, which allows it to recover a 30–80 percent charge in around half an hour.
What do you make of the updated Hispano Suiza Carmen Boulogne? Let us know in the comments section below…