Normalising electric cars
Electric cars are creating a real buzz, because their cutting-edge technology can change your motoring life. So join the EV revolution.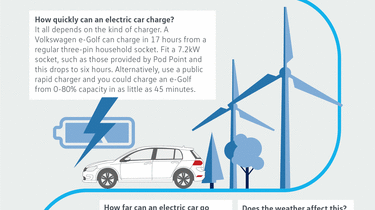 Change is approaching fast in the world of motoring. Electric cars are no longer 10 years away; they're here now. So while it might seem hard to break out of the humdrum, the time is right to see if battery power suits you. After all, we'll all soon be running these cars and, as you'll find out, an EV isn't much different from behind the wheel to a petrol or diesel vehicle.
The average daily driving commute is between 10 and 25 miles, but what most people don't realise is that the latest battery technology in the Volkswagen e-Golf and e-up! can easily manage a few days' use on a single charge with ranges of 144 miles and up to 99 miles respectively.
When you are low on power, plugging in at home is easy. If you have a drive, you can simply connect to the mains; the e-up! takes 10 hours to charge via a three-pin socket, and with the e-Golf it's 17 hours.
It really is that simple.
Too slow? A range of quicker home chargers is available; for example, a 16-Amp, 3.6kW 'wall box' will charge the e-Golf in a little under 11 hours, with a higher-spec 32-Amp, 7.2kW version restoring it to 100 percent capacity in five hours and 20 minutes. Meanwhile, a wall box will reduce the charging time of the e-up! to as little as six hours.
If you can afford it, there are even rapid chargers that will charge your EV in under an hour. These rapid chargers are mostly used on the roads, though, and the network available to the public is growing quickly.
As a result, planning your journey is no different to a petrol or diesel car. The Discover Navigation system in the e-Golf, or the Maps + More smartphone app in the e-up!, shows 50kW CCS rapid charging points on your route, and these can take the cars' batteries to 80 per cent in 45 minutes and up to 100 per cent when left plugged in for an additional 30 minutes.
It helps that the e-Golf and e-up! look, feel and drive just like their regular fuel counterparts in nearly every respect. Both models are subtly marked out from other versions by blue highlights in the grille and headlights, plus aerodynamic alloy wheels. Their luxurious interiors are impeccably finished and benefit from a host of useful infotainment technology.
Thanks to their single-speed automatic gearboxes, these cars couldn't be easier to drive; simply press the start button, release the parking brake and you can enjoy the familiar precise steering and sharp throttle response. With 270Nm of torque available from a standstill in the e-Golf, and 210Nm in the e-up!, performance off the line is electrifying.
The Golf and up! are universally loved and respected, so now, with the addition of these electric models, it's a really easy choice for anyone considering an EV. Get used to plugging in instead of filling up and you'll be open to the future world of motoring, and may even save some money – as well as the planet.