'The UK government needs to create a new car company after Brexit'
If Brexit happens then the government should use it to create a UK-run car company, says Mike Rutherford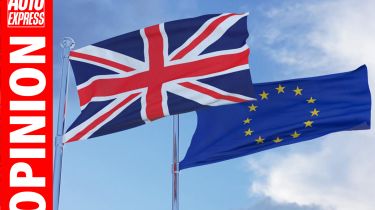 I'm glad it exists, because it creates so many jobs and consumer products which, in turn, offer freedom of movement to people across the world. But even I concede that when looking at the numbers, global car manufacturing is a bonkers business.
This industry is colossal, superbly organised, highly efficient and deeply impressive. But there's also an unfathomably illogical side to the car-building game.
• UK car manufacturing tumbles for ninth consecutive month
For example, I know of one large, wealthy, rough-around-the-edges industrialised country (China) that, with apparent ease, produced almost 24 million cars last year. Yet not far from China, another large, wealthy, 'more sophisticated' industrialised country (Australia) didn't build a single car over the same period.
From China's point of view, this insane disparity is just fine. But what the hell do Aussie business leaders, workers and politicians think they're playing at as they transform themselves from a nation churning out 300,000 vehicles a year in 2008 to a non-producer today? If places such as Bangladesh (24,000 cars annually), Egypt (19,500), Iran (851,000) and Pakistan (230,000) can master the art of car building, so too can Australia.
Former Soviet States including Belarus (10,941) Kazakhstan (30,016), Ukraine (5,660) and Uzbekistan (220,667) are also having a go at producing cars, with most enjoying huge percentage increases year on year (from a low base, admittedly). Good on 'em, I say.
Even in the global Top 10 – led by China (23.7m cars pa), Japan (8.4m) and Germany (5.1m) – there's still room for a 'poor' nation such as India (4.0m), nuke-threatened South Korea (3.7m), the Trumped-up US (2.8m), battling Brazil (2.4m), underdog Spain (2.4m) and politically unstable France (1.8m). And under-estimate Mexico (1.6m) at your peril.
Sadly, Putin's Russia nipped ahead of Brexit-dogged Britain last year, when we built 1,519,440 cars (down eight per cent on 2017). If we continue to slide at this rate and the dark-horse Czech Republic (1.3m) maintains its year-on-year growth, it'll soon overtake us. After that, Slovakia and Indonesia (1.1m apiece) will be on our heels. Not good.
With our largest and most productive manufacturer, JLR, in trouble, Honda and Infiniti promising to exit the UK car-building scene, and Toyota plus Nissan considering their options, it's time for Britain to win promotion back into the Top 10 car-producing nations.
Assuming Brexit eventually happens, the UK Government should then be more free, open and able to subsidise and create high-quality jobs at an all-new, long-overdue, homegrown, Brit-owned-and-run motor manufacturing concern.
British Motor Vehicles (BMV) PLC is what we should call the maker of mid-to-premium-class petrol, electric and petrol-electric cars, and other modes of personal transport. BMV's badge should be red, white and blue, and its HQ probably on the conveniently located site at Swindon from which struggling Honda is about to retreat.
Who cares if Munich complains that BMV sounds suspiciously like BMW? It's all part of the car-building game in a fast-changing world, and an even faster-changing Britain.
If you enjoyed this then click here to check out some of Mike's previous columns...