'Why should we be excited about Lotus? One word: Geely'
With an electric hypercar and a 911 rival on the way, Steve Fowler thinks the future of Lotus looks bright under Geely's leadership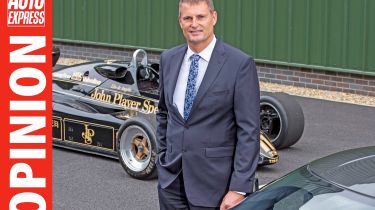 Lotus has always had a special place in my heart – as it has for many car fans. A 1990 Lotus Elan SE once sat on my driveway – and still sits on my wall – and I've hankered after another Elan ever since (although prices seem to be rising fast).
It's fair to say that Lotus has built some of the finest-handling cars we've ever driven – and it still does. But it's a brand that has never fulfilled its true promise and never had the investment that, I've always felt, could propel it to real and sustained superstar levels.
• New Lotus sports car to arrive in 2020
So why am I so excited about Lotus now and how can you be convinced that this isn't just another dose of dewy-eyed romanticism? One word: Geely.
The Chinese giant now owns 51 per cent of the British company – the biggest bonus of its buy-in to Proton, Lotus's previous owner and the last in a line of potential great saviours. Just to remind you, Geely also owns Volvo – and it's done a pretty good job there – as well as up-and-coming Lynk & Co and Polestar, plus LEVC, which makes the all-electric London taxi and is about to launch into the growing commercial vehicle sector. Oh, and Geely has just announced a new, global electric car brand: Geometry.
Geely is busy doing two things with Lotus. Most importantly, it's investing in the right management team to come up with a sustainable plan and implement it. Then it's providing these people with the cash to do it – just as it has done, so successfully, with Volvo.
The company is now led by Phil Popham, formerly boss of Land Rover, who also did a fine job transforming luxury yacht business Sunseeker. Now he's got to transform Lotus into a proper luxury sports car maker. It starts with news of a multi-million-pound all-electric hypercar, but it's the whispers of a hybrid 911 rival next year that are most exciting. Let's hope this is the beginning of a Lotus story we've wanted to tell for years.
Are you excited about the future of Lotus? Let us know your thoughts below...