London Congestion Charge zone to get 20mph speed limit
All 5.5 miles of road within the London Congestion Charge zone will have a 20mph speed limit from Monday 2 March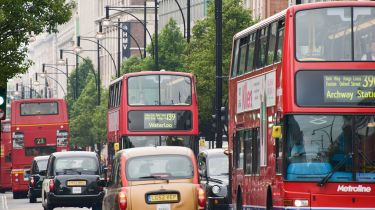 All roads within London's Congestion Charge zone will have a 20mph speed limit from next week, Transport for London (TfL) has confirmed.
The new limit, which was announced in September last year following a public consultation, will cover all 5.5 miles of TfL-managed roads within central London's Congestion Charge zone, including Millbank, Albert Embankment, Victoria Embankment and Borough High Street.
TfL is recalibrating all speed cameras in central London to support the new limit. Drivers caught speeding will receive three penalty points on their driving licence and a fine of £100. Police in London process around 160,000 speeding tickets each year, 42,000 of which are for offences committed in 20mph zones.
In addition to the 20mph limit itself, new signage and road markings are being implemented across the Congestion Charge zone and raised pedestrian crossings are being installed in areas where large numbers of people walk.
The public consultation which led to the new limit received more than 2,000 responses, with mixed opinions. Roughly half of respondents said the 20mph limit would have a positive impact on people walking, but only 31 per cent believed it would result in many more people choosing to travel on foot. Additionally, 59 per cent of respondents thought the plan would lead to more people cycling.
Only four in ten people believed the new limit would have a positive effect on public transport. TfL admitted in its report that it anticipates a "slight" increase in journey times on London Buses during off-peak periods, but claimed that research has shown the impact to be "negligible".
Sadiq Khan, the Mayor of London, commented: "I am absolutely determined to do everything I can to eradicate all deaths and serious injuries on London's roads and these new measures are a vital step along the way to helping us to achieve this.
"By cutting speed limits on TfL's roads within the Congestion Zone we are saving lives, while at the same time making our streets more appealing for Londoners to walk and cycle around the capital." In May 2019, the City of London announced it would be implementing a 15mph speed limit across the Square Mile. The plans are subject to approval from the Department for Transport.
Do you agree with a 20mph speed limit in London? Let us know below...