New electric cars must have audible warning system for pedestrians
All new EVs, hybrids and PHEVs must emit warning sounds below 12mph to alert pedestrians of their presence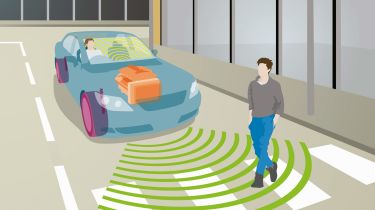 All new electric cars, hybrids and plug-in hybrids (PHEVs) must now be fitted with an Acoustic Vehicle Alerting System (AVAS), which will activate at 12mph and below, emitting warning sounds to alert pedestrians and other road users of the vehicles' presence.
While it will be up to manufacturers to decide what specific form of noise their AVAS units emit, their sounds must be within a certain frequency range.
• UK electric cars will require twice the world's supply of cobalt
The sounds should also "be easily indicative of vehicle behaviour", with a "frequency shift" intended to indicate whether the car is accelerating or slowing. The systems should also "sound similar to the sound of a vehicle of the same category equipped with an internal combustion engine."
AVASs can emit between 56 and 75 decibels, depending on the car's power-to-weight ratio; 75 decibels is roughly akin to the loudness of a car with an internal combustion engine travelling at 65mph, heard from 25 feet away. Drivers will be allowed to deactivate AVAS systems "if judged necessary".
The AVAS rules apply to all new cars made from 1 July 2019, and all new electric and hybrid cars registered from July 2021. 
The UK's adoption of EU rules on AVAS signifies, the Department for Transport says, that the government has "cemented its position as a global leader in the transition to zero emission transport". The DFT's roads minister, Michael Ellis, said the system would "give pedestrians added confidence when crossing the road."
Do you like the idea of electric cars making noise to improve safety? Have your say in the comments below...