Police to use drones to target dangerous drivers
Initiative from London's Metropolitan police will see drones target dangerous drivers and those taking part in street races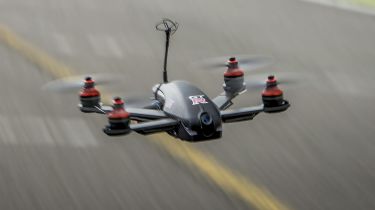 Dangerous and speeding drivers in the UK will soon be targeted by drones, after the Metropolitan police announced it would be using unmanned aerial vehicles (UAVs) to seek out dangerous motorists.
The drones will be used to look out for drivers taking part in street racing and driving in a dangerous manner, rather than target all speeding incidents, but their deployment marks the first time such devices have been used to monitor general road users. If dangerous incidents are detected by drone operators and observers, officers on the road will be instructed to intercept and pull offenders over.
• UK to adopt EU-mandatory speed limiters
Detective Superintendent Andy Cox, the Met's roads and traffic policing head, said drones are "one of many enforcement tactics being used" as part of London's Vision Zero action week. Vision Zero aims to reduce the number of people killed or seriously injured in the capital by 65 per cent by 2022, and bring that figure down to zero by 2030.
Cox said the aim of the drones is to "deter dangerous driving", and added that the overall message should be "drive lawfully, stay safe and keep a clean licence". Cox added, though, that: "deterrence is sometimes best achieved through intense enforcement and that's what this capability enables."
The UAVs will be used to target drivers between 22 and 26 July in known hotspots such as the A10 in Enfield, which has seen eight road deaths in the last two years. The drones are equipped with night vision capabilities, and will be used high altitudes to monitor drivers without being seen, and at low altitudes to act as a deterrent. Detective Superintendent Cox said: "The focus will be on dangerous drivers who are racing and those putting their lives and other people's at risk."
Do you think the use of drones to police the roads is a good idea? Let us know in the comments...