Road rage: one in five drivers admit to having confrontations
Drivers admit to getting out of their car to argue with another driver or following another vehicle home in road rage incidents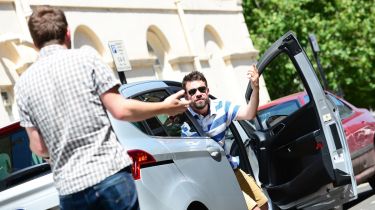 Some 22 per cent of drivers have stepped out of their car to argue with another motorist, while 19 per cent have followed another vehicle to its destination in the hope of confronting the person behind the wheel, new data reveals.
Although men are the worst offenders when it comes to getting out of the car to argue with another driver – with 23 per cent of them having done it, compared with 21 per cent of women – some 20 per cent of females have knowingly followed another driver as a result of road rage, while only 18 per cent of men have done the same.
• New police road rage unit to analyse dashcam footage from the public
Automotive data company HPI conducted a survey of more than 1,000 drivers aged between 18 and 65, and found 39 per cent admit developing road rage after having a bad day and taking their frustration out on others. Worryingly, three per cent admit to "always being furious" when behind the wheel.
Some 28 per cent of respondents said that their biggest frustration when driving was dangerous overtaking by other motorists, while 20 per cent found impatient tailgaters to be the most aggravating drivers on the road.
As for the roads themselves, 31 per cent of survey respondents cited potholes as the most frustrating issue, while 20 per cent thought traffic jams were the worst.
Furthermore, 16 per cent blamed seemingly never-ending roadworks as the main source of their anger and 10 per cent blamed parking issues, such as expensive charges and not being able to find a space. Eight per cent, however, said that road-related problems do not make them angry at all.
• It's official: Britain is the worst country in the world for road rage
Van drivers were named as the most infuriating road users by 23 per cent of respondents, while 19 per cent said cyclists were the worst, 11 per cent pointed at private hire and Uber drivers, and eight per cent complained about careless pedestrians.
The most commonly cited in-car causes for road rage, meanwhile, were back-seat drivers (27 per cent), squabbling children (17 per cent), passengers who interfere with the stereo (11 per cent) and incessant chatterboxes (10 per cent).
Road rage has affected 39 per cent of drivers more than once, with 23 per cent having reported another motorist for dangerous driving.
Have you ever been a victim of road rage or become aggressive towards other drivers yourself? Let us know in the comments below...