Ban hands-free mobiles when driving, say MPs
Transport Select Committee recommends tougher penalties for using a handheld mobile, plus banning hands-free calls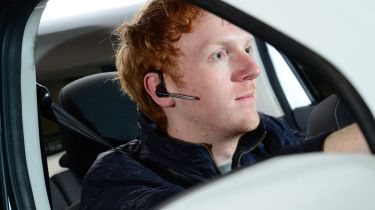 Making hands-free mobile phone calls when driving should be illegal, while current penalties for using mobiles behind the wheel should be toughened up, according to the House of Commons' Transport Select Committee.
The cross-party group of MPs launched an enquiry into the subject of phone use when driving in March 2019, consulting with a number of academics and road safety experts to draw their conclusions.
• Half a million drivers seen using a mobile at the wheel
The committee heard evidence that making a hands-free phone call is just as distracting as making a call when holding the handset. While recognising that enforcing a ban on hands-free calls would be difficult, and businesses are sometimes dependent upon being able to speak with staff out on the road, the committee nonetheless says the Government should "explore options for extending the ban on driving while using a hand-held mobile phone"
The committee also says the current six points and £200 fine for using a handheld mobile is not strict enough, and the Government should introduce a "high enough penalty for motorists to take [the offence] seriously". 
As well as banning hands-free calls and introducing tougher penalties, the law on using mobile phones when driving should also be rewritten, the MPs say. Current laws preclude using a handheld mobile behind the wheel when it is being used to engage in "interactive communication". A recent high-profile court case saw a motorist have his conviction for "using" his mobile phone overturned as he was filming an accident on it, not using it to communicate interactively. A new public information campaign on the dangers of using a phone behind the wheel should also be introduced, according to the report.
• Police to trial mobile phone detectors
The penalty for using a hand-held mobile phone when driving was doubled from three points and a £100 fine in March 2017, and this toughening up of the rules initially brought with it a sharp decline in incidents of drivers using handheld mobiles.
But data shows that while the number of people killed or injured in collisions when a driver was using a mobile has increased over recent years, the number of tickets issued for the offence has declined. In 2017 there were 773 casualties, including 43 deaths and 135 serious injuries, in road accidents where a driver using a mobile phone was a contributory factor in the crash.
Commenting on the report, Edmund King, president of the AA president said; "It is crucial that we continue to raise public awareness of the dangers of using a phone at the wheel and change attitudes to its use as we have with drink driving.  
"Enforcement is also key. Even the more stringent penalties have had less effect than expected on mobile phone abuse because offenders think the chance of being caught is minimal."
Do you think enough is being done to prevent mobile phone use behind the wheel? Let us know your thoughts below...