Mobile phones in cars: UK law on using phones and sat-navs when driving extended to 'any use'
What are the new rules around using mobile phones when driving? We explain the laws on hands free phone use for drivers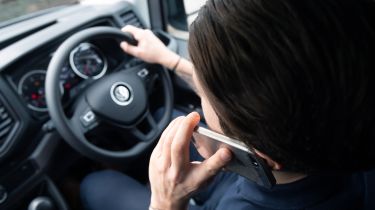 Drivers face tougher rules on mobile phone use in their cars, as well as bigger fines for breaking those rules, thanks to new laws coming into effect from March 25 2022.
It's been illegal to make calls or communicate on a mobile phone while driving since 2003, and the law also applies to using phones for any 'interactive communication' which means SMS text messaging, using messaging apps, or accessing the internet.
However, following cases of motorists escaping prosecution for using phones for other purposes while driving, such as videoing, taking pictures or using music apps, the law has been updated to ban all forms of mobile phone use unless a driver is safely parked.
Basically, the amended regulations will mean an offence is triggered whenever a driver holds and uses a device, regardless of why they are holding it.
The change in the law follows a lengthy consultation by the Government, designed to reflect changes in the way technology has advanced.
The consultation was begun after a motorist successfully argued in court that he wasn't using his mobile phone for communication because he was actually filming a crash.
So, following the law change, it is illegal to hold a mobile phone for any reason while you're driving. This law also applies if you're a passenger who is looking after a learner driver.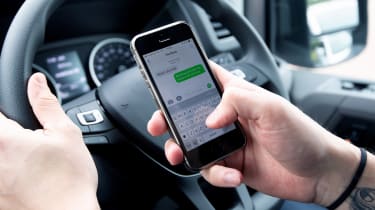 However, the law does allow you to interact with the phone if you have hands-free access, which means you can use a Bluetooth headset or use voice commands. You can also touch the screen as long as the phone is held in a secure mount on the dashboard or windscreen. This means you can also touch the screen to use the phone's built-in satellite-navigation system, as long as the phone is securely mounted.
The exception here is that any driver can be charged with driving without due care and attention. If you are distracted from your surroundings for long periods by a hands free device, you still run a risk under these rules.
The penalty for using a mobile phone while driving now means guilty drivers stand to receive six driving licence penalty points, a possible driving ban, and a fine up to £1,000.
Can you use your phone while the car is stationary?
While the law continues to apply even if you're stuck in a traffic jam or stopped at traffic lights, the Government has also recognised that mobile phones are commonly used to make contactless payments. As such, the law includes an exemption allowing drivers to pay for goods and services from the driver's seat - such as a takeaway meal at a drive-through restaurant or a road toll - as long as the vehicle is stationary.
When can you use a mobile phone in a car?
The law says that if your car is 'safely parked' then you can use a hand held mobile phone. This means you would need to be stopped at the side of the road or in a designated parking bay with your engine off. Waiting in traffic or at traffic lights does not count.
There is one further case when you can use a mobile phone while driving. You are allowed to call 999 or 112 in an emergency on a hand-held device if there is nowhere safe to stop. 
Partnership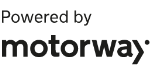 Need to sell your car?
Find your best offer from over 5,000+ dealers. It's that easy.
Edmund King, president of the AA, commented: "There is no excuse for picking up a mobile phone when driving.
"Phones do so much more than calls and texts, so it is only right that the law keeps pace with technology. Tweets, TikTok and Instagram snaps can all wait until you park up.
"These rules clarify the law and help drivers realise that this dangerous act can have the same consequences and be as socially unacceptable as drink driving. If you can't resist the temptation to pick up your phone, then you should convert your glovebox into a phone box."
Now check out our test of the best in-car mobile phone holders on the market...