Parking on the road: where you can and can't park your car in the UK
Car parking rules can be a minefield to negotiate for motorists but our guide should help you determine where you can and can't leave your car on UK roads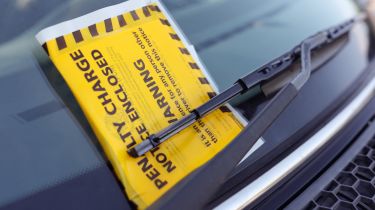 Parking on the street in the UK is easy, once you've managed to find a space and have mastered how to get the car close to the kerb, right?
Wrong. You may have got the hang of the physics, but there's a whole range of rules, regulations and laws concerning where (and how) you can park. These must be obeyed if you're to avoid coming back to the dreaded penalty notice stuck to your car's windscreen. Here, we explain the UK parking laws and list the places you can and can't leave your car.
General UK parking rules
Many of the rules are simply common sense, and include the fact that you shouldn't park too close to a vehicle that has a Blue Badge showing for access reasons, but that you should park as close to the kerb as possible.
You should also apply the handbrake before you leave the car, and of course, the engine should be switched off.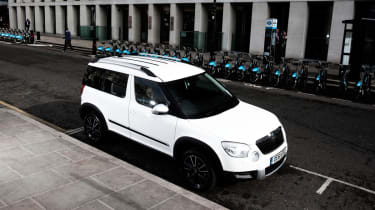 The car should also be parked in the same direction as the traffic flow, so that if your car is on a dark road, the headlights of approaching traffic will illuminate its rear reflectors. In addition to that, the law also states that if you park on a road with a speed limit of more than 30mph, you must activate your car's parking lights. This is most commonly done by pushing the indicator stalk up or down to illuminate the offside lights but the parking lights are controlled differently model to model.  
Where you can and can't park your car
Below, we've listed the most common areas where people get their parking rules wrong, and end up with a fine.
Double yellow lines
If you see double yellow lines at the side of the road, the inference is 'nothing to see here, move along'. Parking and waiting are forbidden, even more so if the double yellows are backed up by yellow flashes on the kerbs.
In some circumstances, you might be permitted to unload, as long as you can show you have done so continuously, but this is a grey area that is open to interpretation.
However, Blue Badge holders are allowed to stop on a double yellow line for a maximum of three hours.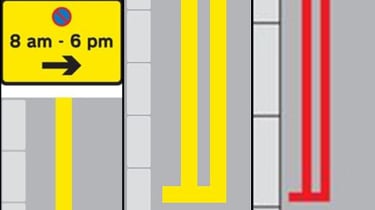 Single yellow line
Single yellow lines also mean no parking, but between certain times. These times will be clearly displayed on an accompanying sign.
Single-yellow restrictions tend to be eased in the evenings and at the weekend, but it's always wise to check the nearby sign to make sure.
However, as with double yellow lines, Blue Badge holders can park there, albeit with the limit of a three-hour duration.
Red lines
If a double yellow line means don't stop, park or wait, then a double red line means really, really don't stop, park or wait.
These red lines signify Red Routes, and you are forbidden from stopping on them at any time, unless you are a taxi stopping to pick up or deposit passengers, or you are a Blue Badge holder.
The only places you can stop on a Red Route are in specially marked bays at the side of the road. On rare occasions, you may be allowed to park on a Red Route between certain hours, and for a short period only, but there will be signs nearby that will explain the restrictions.
Yellow zigzags
You will typically find yellow zig-zag lines outside buildings such as schools, bases used by the fire, ambulance or police services, and of course, hospitals. They denote an area in which you must not park, either because you could delay the emergency services in an emergency, or because you could end up putting children at risk as they leave or enter school.
Partnership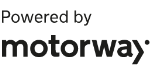 Need to sell your car?
Find your best offer from over 5,000+ dealers. It's that easy.
This rule applies even when you're picking up or dropping off your child, so park down the road, where it's safe to do so, and walk.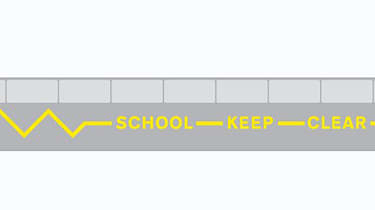 White zigzags
White zigzags are located on the approach to a pedestrian crossing, be it a zebra crossing, a traffic-light crossing, or a pelican crossing.
You must not park in this area, because your car will quite likely block the view of anyone crossing the road, which can put them in danger as they step off the pavement. Parking in this area would also force motorists to manoeuvre around your parked car, further exacerbating an awkward and dangerous situation.
Pavement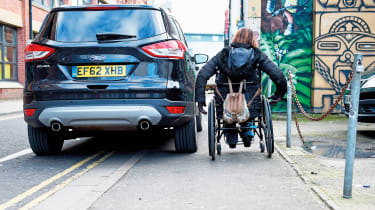 In London, you must not park on the pavement by law, and you will face at least a fine, and if your car is blocking the pavement, it could be towed away, further increasing the cost.
The situation is less black-and-white in other areas of the country. If pavement parking is permitted, a blue and white sign will show this, with a graphic of a car half on the pavement, and the parking bays may even be marked as half on the pavement and half on the road.
If you're allowed to park your car fully on the pavement, the blue sign will also show a picture of this.
Near junctions
You must not park within 10 metres of a junction, unless you are within a clearly marked and authorised parking space.
Parking so close to a junction forces other vehicles into an unsafe position on the approach or departure from the junction, and your vehicle will also obscure the view out of a junction for other road users, potentially putting them in danger of a collision.
Clearway
A clearway is exactly what it says – a way that must remain clear. This means no one can stop at any time, including taxis and Blue Badge holders.
This is because clearways tend to be rapid routes into and out of cities, and the priority has to be traffic movement.
A clearway sign is a red circle with a red cross and a blue background, and below this there will usually be a sign to tell you exactly how long the clearway lasts for.
Taxi rank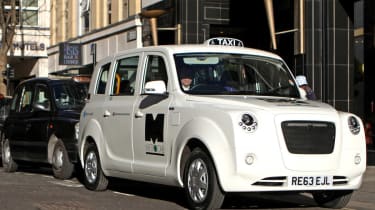 A taxi rank is for taxis, and is positioned and designed for a constant through-flow of vehicles. Parking your vehicle there can disrupt the flow, putting pedestrians and potential taxi users at risk.
A taxi rank will be clearly delineated using both road markings and signs at the side of the road. You will not only face the prospect of a fine, but you'll also incur the wrath of any taxi drivers nearby.
Cycle lane
Cyclists are some of the most vulnerable road users, and cycle lanes have been set up for their protection (and to keep traffic flowing).
Parking in a cycle lane forces cyclists to swerve around your vehicle into the main flow of traffic, which will cause cars, buses and lorries on the main carriageway to have to slow down. It can also cause disruption to the main carriageway as other vehicles are forced to manoeuvre around your car.
Now read our guide to UK speed cameras