New CAV PASS system to check autonomous cars are fit for UK roads
New safety regime will ensure self-driving vehicles are safe and secure ahead of their wider deployment on UK roads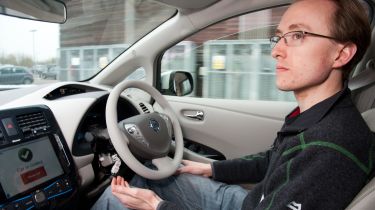 A new system is being developed to ensure the safety and security of autonomous vehicles, the Department for Transport (DfT) has announced.
The new safety regime called CAV PASS will aim to prevent any defects in driverless cars and make sure they are secure from cyber attacks, according to minister for the future of transport, George Freeman.
• Driverless cars: everything you need to know about autonomous vehicles
The announcement was made as Freeman officially opened Autonomous Village, a self-driving vehicle test facility at Millbrook Proving Ground in Bedfordshire with over 40 miles of test track, as well as a private mobile network and a simulator suite.
The new site – coordinated by UK autonomous vehicle development firm Zenzic – will allow driverless cars to have their systems challenged in a safe environment, with data being collected to fine-tune software, sensors, 5G telecommunications and cyber security systems.
Zenzic has also revealed the 'beta' version of its Connected and Automated Mobility Roadmap (CAM) to 2030, which is being developed by 150 organisations and pinpoints over 500 milestones that need to be achieved across various sectors in order for the UK to have adopted autonomous cars by the end of the next decade.
Commenting on the opening of Autonomous Village, Freeman said: "Self-driving vehicles can offer significant rewards for the UK's economy, road safety and accessibility. We are determined to lead in the testing and development of safe autonomous transport.
"This is new terrain, and with our national expertise the UK is well-placed to blaze the trail globally by developing a global benchmark for assuring the safety and security of this exciting technology."
On the topic of CAM, he added: "Zenzic's roadmap is a fantastic example of the public and private sector working together to shape the future of connected and self-driving technologies and demonstrate the UK as a world-leading test-bed in 21st-century mobility."
Are you excited to see driverless cars hit UK roads in the future? Let us know in the comments below...