European car makers warn of "irreversible" no-deal Brexit effects
Automotive bodies says tariffs worth £5bn could be passed on to European consumers every year if the UK leaves the EU without a deal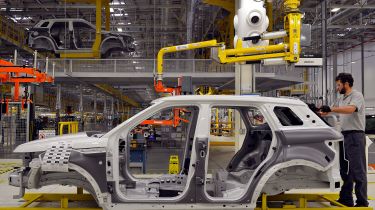 European car makers have united to deliver an unprecedented condemnation on the effects of a no-deal Brexit, warning of "catastrophic" and "irreversible" damage if the UK crashes out of the EU, and imploring UK and European leaders to avoid no deal.
In a joint statement authored by the UK's Society of Motor Manufacturers (SMMT), the European Automobile Manufacturers' Association (ACEA) and 21 other industry bodies, including Germany's VDA and France's CCFA, the industry leaders warn that consumers may have to absorb an extra £5 billion in costs each year if WTO tariffs are applied post-Brexit.
• Driving in Europe after Brexit
"Brexit is not just a British problem", says Christian Peugeot from the Committee of French Automobile Manufacturers, while his UK countermart, SMMT chief executive Mike Hawes, says no deal "would have an immediate and devastating impact on the industry, undermining competitiveness and causing irreversible and severe damage."
Hawes and the other representatives say the UK leaving without a deal would "trigger a seismic shift in trading conditions, with billions of euros of tariffs threatening to impact consumer choice and affordability on both sides of the Channel."
The SMMT has long warned of the negative impacts a no-deal Brexit would have on the UK car industry, but the joint statement is a reflection of how enmeshed British automotive firms are with other European countries.
• Vauxhall Astra production could be moved out of the UK
Roughly one in every 16 EU jobs is linked to the automotive industry, while each individual car is comprised of around 30,000 individual parts, some of which cross borders several times during production. If WTO tariffs are applied an estimated £5 billion would be added to the annual "EU-UK auto trade bill, raising prices for customers if manufacturers cannot absorb the additional cost." Border and entry problems could add to those costs, with UK production stoppages estimated to cost £50,000 per minute.
Claude Cham, president of the French Federation of Vehicle Equipment Industries, said a no-deal Brexit would negatively affect other countries, as "global competitiveness is directly linked to the size of a market of which the United Kingdom in the EU is of prime importance." Chame added, though, that: "this is even more important for the United Kingdom itself, which would be de-facto relegated out of one the world's largest markets."
Responding to the car makers' statement, a spokesperson from the Department for Business, Energy & Industrial Strategy (BEIS) said the Government had "turbocharged preparations for Brexit across all sectors, including automotive, with £108 million of funding to promote and support businesses to ensure they are ready for Brexit and can take advantage of the opportunities of our future outside of the EU."
What impact do you think a no-deal Brexit would have on the UK car industry? Let us know your thoughts below...