30% of drivers have seen a physical assault in the last year
RAC Report on Motoring reveals three in 10 drivers have witnessed an incident of physical assault due to road rage in the last year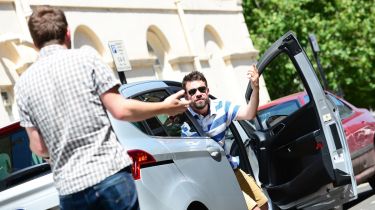 Three in 10 drivers have witnessed an incident of physical assault due to road rage in the last year, while nearly a quarter admitted to using a mobile phone behind the wheel on an occasional basis at the very least.
Of the 1,753 motorists surveyed in the RAC's annual Report on Motoring, 30 per cent said they have seen drivers physical assaulting each other in the past 12 months and nearly half have seen verbal abuse being dished out. Furthermore, 60 per cent said they see a greater number of road-rage incidents now than they did 10 years ago.
• New police road rage unit to analyse dashcam footage from the public
So bad is the situation that 36 per cent of respondents said their top motoring-related concern was illegal, anti-social or dangerous behaviour by other drivers. These actions included ignoring signs - the specific top concern for five per cent of respondents - tailgating, middle lane hogging, running red lights, texting behind the wheel, drink-driving and road rage.
On the topic of mobile phone use - the top motoring-related concern for 12 per cent of drivers - 23 per cent of respondents admitted to making or receiving calls on a handheld device while driving at least occasionally, rising to 51 per cent among 17 to 24-year-olds
In addition, 17 per cent said they check texts, emails or social media behind the wheel - shockingly, this figure rises to 35 per cent among drivers aged under 25.
Only 15 per cent of drivers surveyed claimed to follow the Government's advice of putting their mobile phone in their car's glove compartment before setting off. Some 45 per cent keep their phone in a pocket or bag while driving, while 25 per cent put it in the centre console or on the seat next to them.
A further 24 per cent of motorists leave their phones switched on with the sound on when driving, rather than putting it on silent or into a safe driving mode.
RAC road safety spokesperson Simon Williams commented: "All the fears associated with the behaviour of other drivers on the road have never featured as highly in our research as top motoring concerns as they have this year. This is primarily due to double the proportion of people ranking the aggressive behaviour of other drivers as their top concern this year.
"Drivers using handheld mobile phones, drink-driving, drug-driving and breaking traffic laws remained as number-one concerns for similar proportions of motorists to last year's research. This means people must have experienced some very disturbing aggressive behaviour on the UK's roads in the last year for them all to rank in top spot together." 
Do you think that the roads are getting more dangerous and aggressive? Let us know your thoughts in the comments below...