General Election 2019: where do the parties stand on motoring?
With the UK electorate going to the polls on 12 December, we explain the policies each party has in store for motorists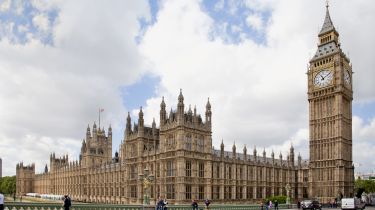 A Parliamentary deadlock means the UK is holding its third General Election in the last five years, with Boris Johnson's Conservatives facing off against Jeremy Corbyn's Labour Party, while a number of smaller parties fight to have their voices heard.
There's no doubt that Brexit is the main issue on the agenda but this is a General Election, not a referendum, so all matters of policy are up for debate, including those relating to motoring.
• UK car production fell 3.8 per cent in September
As manifestos are released and policies announced in the run-up to polling day on 12 December, we'll update this page with everything you need to know about what the parties have planned for drivers.
Conservative and Unionist Party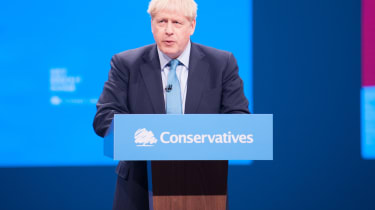 Leader: Boris JohnsonSlogan: "Get Brexit Done. Unleash Britain's Potential"Manifesto: Released
The Conservative's 2019 manifesto promises a "transport revolution", with Boris Johnson promising £1 billion of investment in fast-chargers for electric cars and vans, pledging no driver will be more than 30 miles from an EV charger.
In addition to this, the party intends to invest £28.8 billion in the building and upgrading of strategic and local roads, and also promises to launch the country's biggest ever pothole filling programme.
Finally, the Conservatives say they will "consult on the earliest date we can phase out the sale of new conventional petrol and diesel cars, while minimising the impact on drivers and businesses".
Labour Party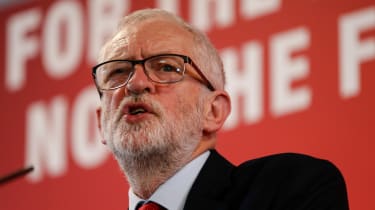 Leader: Jeremy CorbynSlogan: "It's Time for Real Change"Manifesto: Released
In its manifesto, Labour says its transport programme is "focused on creating better, publicly accessible local transport systems". The party says it will bring the 2040 ban on the sale of new conventional petrol and diesel cars forward to 2030; it also pledges it will "position the UK at the forefront of the development and manufacture of ultra-low emission vehicles and will support their sale", promising investment in EV charging infrastructure and electric community car clubs.
Jeremy Corbyn's party also says that, if it wins power, the UK will adopt the 'Vision Zero' aim of totally eliminating all road deaths and serious injuries. The manifesto explains that there will be investment in local roads to make them safer for all who use them, plus all tolled road crossings around the country will be reviewed.
Earlier this month, the Conservatives released what was allegedly an internal Labour document detailing the transport policies the party was considering putting in his manifesto - including increases to fuel duty, a road pricing scheme, a workplace parking levy, a reduction of motorway speed limits to below 70mph, and the cancellation of all new road-building schemes. These policies have not been included in the manifesto, however.
Liberal Democrats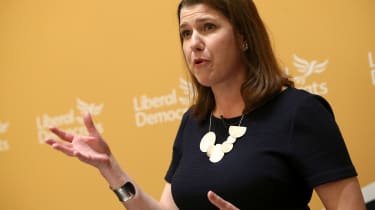 Leader: Jo SwinsonSlogan: "Stop Brexit. Build a Brighter Future"Manifesto: Released
The Liberal Democrats' main goal is to stop Brexit but their manifesto does make some mention of transport. Specifically, the party says it wants to accelerate the transition to ultra-low emission transport - including cars, buses and trains - via "taxation, subsidy and regulation". The 2040 ban on the sale of all new conventional petrol and diesel cars would not only be brought forward to 2030, but would be expanded to ban hybrids as well, meaning only new EVs could legally be sold.
Jo Swinson's 'Plan for the Future' talks at some length about "reducing the need for car travel" by improving the UK's public transport services. This would include £4.5 billion of spending on local bus routes over five years, investment in new light rail and tram services, and a nationwide strategy to promote cycling and walking.
The party also says it will create ultra-low emission zones in ten more UK cities, while simultaneouly cutting VAT on electric cars by five per cent and speeding up the installation of charging points around the country. Funding will also be allocated to the further development of battery and hydrogen fuel cell technologies.
Scottish National Party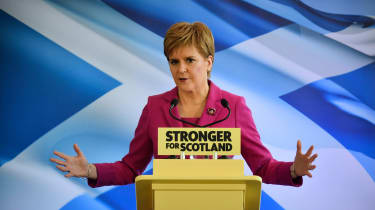 Leader: Nicola SturgeonSlogan: "It's Time to Choose Our Own Future"Manifesto: Released
The ban on the sale of all new conventional petrol and diesel cars is set to come into effect in 2032 in Scotland, and the SNP wants to see this policy expanded to the rest of the UK. The party says it wants to invest £17 million in loans to help drivers purchase ultra-low emission vehicles £500 million in improving bus priority infrastructure to encourage people out of their cars and on to public transport.
Nicola Sturgeon's party also wants to re-design vehicle and tax incentives to encourage businesses and individuals into ultra-low emission vehicles, and supports a diesel scrappage scheme for drivers moving to ultra-low emission vehicles
The Brexit Party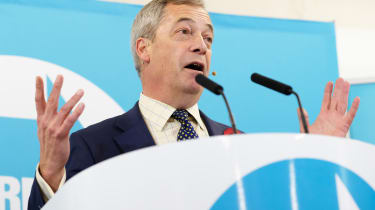 Leader: Nigel FarageSlogan: "Change Politics for Good"Manifesto: 'Contract with the People' released
The Brexit Party elected not to release a full manifesto for the 2019 General Election, instead issuing what it calls a 'Contract with the People'. This relatively short document includes some transport-related policies, including scrapping the HS2 rail project and offering free Wi-Fi on all public transport.
The party doesn't appear to have any policies for motorists, though - no mention is made in the entire document of cars, roads or motoring as a whole. Instead, the party is focusing on Brexit, voting reform, the NHS and cutting the cost of living, among other issues.
Green Party of England and Wales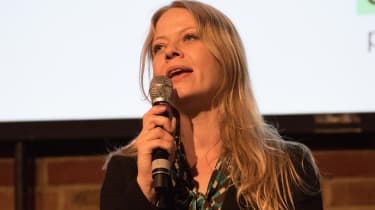 Co-leaders: Jonathan Bartley and Sian BerrySlogan: "Leading the Fight for Climate Action, a People's Vote, a Fair Society for All"Manifesto: Released
The Green Party's main issue of concern is the environment and this is what guides the majority of its policies. With this in mind, co-leaders Jonathan Bartley and Sian Berry launched their manifesto with plans for a 'Green New Deal'.
As part of this policy, a new 'Carbon Tax' will be imposed on all fossil fuels, including petrol and diesel, and new road-building schemes will be halted, with the party pledging to make travel by public transport cheaper than driving a car.
The Green Party wants to bring the 2040 ban on the sale of all new conventional petrol and diesel cars forward to 2030. The manifesto also describes plans to create a network of EV charging points by requiring their construction through the planning system and "encouraging" the private sector to continue installing them.
Finally, the party would reduce the default speed limit to 20mph in residential areas and 40mph in non-residential areas, with the exception of "major" roads.
Plaid Cymru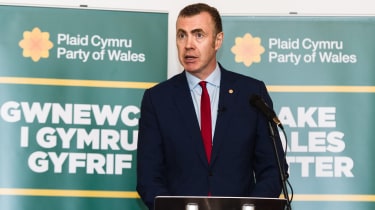 Leader: Adam PriceSlogan: "Wales, It's Us / Ni yw Cymru"Manifesto: Released
Plaid Cymru (The Party of Wales) is another party that wants to bring the 2040 ban on the sale of new conventional petrol and diesel cars forward to 2030. As part of this effort, leader Adam Price pledges in his party's manifesto to invest in a Welsh national EV charging network, with the aim of creating a 100 per cent electric public sector vehicle fleet and simultaneously increasing private EV ownership.
The party also wants to create more clean air zones in towns and cities around Wales, intending to place pollution monitoring equipment outside schools and hospitals, and enabling local authorities to implement pollution and congestion charges.
Democratic Unionist Party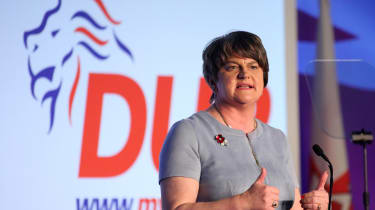 Leader: Arlene FosterSlogan: "Let's get NI moving again"Manifesto: Released
The DUP would move the 2040 ban on the sale of all new conventional petrol and diesel cars forward to 2035. Party leader Arlene Foster also promises zero VAT on electric cars and lower VAT on hybrids.
The party would introduce a diesel scrappage scheme targeted at cities and regions adopting ultra-low emission zones or where diesel ownership levels are greater than 30 per cent of domestic vehicles, as well as require the installation, checking and cleaning of particulate matter filters on all petrol cars during MoT tests
UK Independence Party
Interim leader: Patricia MountainSlogan: "For Brexit and Beyond"Manifesto: Released
UKIP wants to see all road tolls in the UK scrapped and says it would block any attempt to introduce pay-as-you-go road pricing. The party also pledges in its manifesto to scrap an EU rule requiring all new cars built from 2021 to be fitted with a data logger that records the vehicle's speed and the state of its safety systems.
The manifesto includes plans to stop removing the hard shoulder on smart motorways and end all-lane running. UKIP also says it would "stop diesel drivers from being penalised through discriminatory parking fees or zone charging" and end subsidies and vehicle tax exemptions for electric vehicles to support "open, free market competition".
Finally, the party promises to support solutions from private indsutry to increase the installation of EV charging points, as well as encouraging the inclusion of off-street parking and charging in new housing developments.
Who do you want to win the General Election? Let us know why in the comments below...