'Self-driving cars are on the back burner – for now'
Driverless cars were hotly tipped to be the future of motoring but now John Mcllroy believes they have been put on the back burner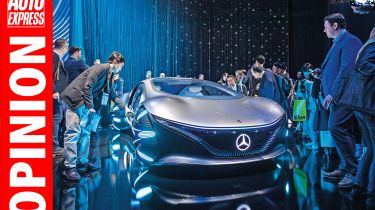 The Consumer Electronics Show (CES) in Las Vegas is now the season-opener for car companies. But many of the bosses present at last week's showcase were as keen to tell us about one technology that won't happen any time soon, as they were to plug the next big thing.
On the back burner? Autonomy. The fact is, car companies exist to make money. And right now, the biggest influence on their bottom line is not whether we have to continue physically driving their cars.
• Driverless cars: everything you need to know
BMW's board member for technical development, Klaus Fröhlich, didn't pull any punches on the subject. "We never believed in this hype about Level 5 (so-called 'brain-off') autonomy," he said. "With a lot of new technology, we can achieve robust Level 3 (where the driver must remain ready to intervene). But it will be like electromobility – taking 15 years until we can scale it to this high level."
Mercedes, meanwhile, has flipped its development targets so that fully autonomous commercial vehicles (which can operate in more stable, restricted conditions) are now its priority, ahead of self-driving passenger cars.
As the company's boss, Ola Kallenius, told us, "At CES three or four years ago, people were saying, 'We're going to have massive adoption of autonomous driving within the next two years.' That has now been replaced by some sober realism. We're putting trucks first for a reason: we think it's the one you can make money on first."
So what does matter to car companies right now? Sustainability, efficiency and connectivity. They're desperate to avoid any restrictions on where we'll be able to drive their cars, as well as the potential fines for missing CO2 fleet targets. And they need to appeal to younger buyers who are more digitally focused. 
The short-term future, then, is going to be all about electrification and more in-car tech. But not, it seems huge swathes of drivers with their hands off the steering wheel.
Do you think driverless cars are the future of motoring? Let us know your thoughts in the comments below...