Wireless electric car charging trial for taxis launched
Nottingham project will see cab ranks and taxis fitted with wireless charging pads as part of a six-month trial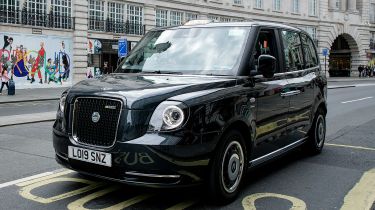 Taxi drivers in Nottingham are set to benefit from wireless charging, after the Department for Transport announced a £3.4 million trial of wireless pads at taxis ranks.
The scheme will see Nottingham City Council purchase 10 LEVC and Nissan electric taxis, which will be retrofitted with charging pads and given to taxi drivers to run over six months. If successful the scheme could be expanded to the wider population - though this would require electric cars to have wireless charging pads, which no production EV currently possesses.
• Is wireless electric car charging the future?
Nonetheless, the Department for Transport says the scheme could herald a "revolution" in EV charging. Transport Secretary Grant Shapps said the technology "will make using an electric taxi quicker and more convenient, allowing drivers to charge up at taxi ranks before heading off with their next passenger." The project is a collaboration between Cenex, Sprint Power, Shell, Nottingham City Council, Parking Energy, Transport for London and Coventry University.
Wireless charging works by making use of the fluctuating magnetic field developed by the alternating current in a charging pad to create another alternating current in the receiving pad, which is then converted to direct current and used to charge a vehicle's batteries.
While no full EVs come with factory-fitted wireless charging pads, the BMW 530e plug-in hybrid is offered with a wireless charging option - though only as part of a pilot scheme for 200 Californian BMW customers. Critics highlight, however, that wireless charging is slower and less efficient than wired charging, while the extra costs involved must also be taken into consideration. 
The LEVC TX black cab features a 31kWh lithium-ion battery that provides an all-electric range of 80 miles, with a 1.5-litre turbocharged petrol engine standing in as a range extender, acting as a generator to replenish the batteries for a total claimed range of 377 miles. By topping its batteries up little and often while waiting at ranks, cabbies could be saved the hassle of making dedicated charging pit stops, which can take up to 30 minutes or so when plugged into a wired charger.
Head over to our sister site DrivingElectric for more information on this story...