Thousands of new drivers have never driven in the dark
Up to 100,000 driving test candidates have never practised driving at night, new Government figures suggest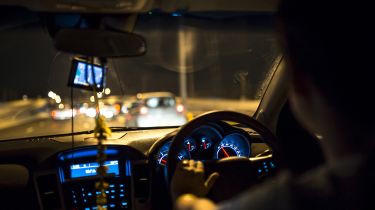 Thousands of newly qualified drivers have never driven at night, new data from the Driver and Vehicle Standards Agency (DVSA) shows.
Up to 100,000 drivers are taking their practical tests every year without ever having driven in the dark, the organisation says. Even though 35 per cent of accidents involving a young driver occur at night.
The DVSA conducted a survey of 17,000 learners and young drivers and found 17.5 per cent had no experience of driving at night, while a further 22 per cent said they had spent less than two hours driving in the dark before taking their test.
Some 610,000 drivers aged 17 to 24-years-old took their practical driving test between October 2018 and October 2019. Of these, as many as 106,000 may not have ever driven at night.
The DVSA is now advising learner drivers to take lessons in the dark, as well as practice driving at night with their parents or another supervising adult.
Mark Winn, chief driving examiner at the DVSA, said: "DVSA's priority is to help everyone through a lifetime of safe driving. It's essential that all learners gain experience of driving in the dark, whether with their driving instructor or through private practice.
"Spotting hazards in reduced visibility is a skill built on experience. The more time a learner spends practising in different conditions, the better prepared they will be for driving safely on their own."
Below are the DVSA's top tips for driving in the dark:
• Watch your speed. You can't see as far ahead when driving at night. Hazards and vulnerable road users may be harder to spot.
• Make sure you can stop well within the distance you can see to be clear.
• Only overtake if you can see the road will remain clear until you've finished overtaking.
• Keep your windscreen clean and clear.
• Use full beam on unlit roads, but dip your headlights early enough to avoid dazzling oncoming drivers.
• Driving when tired greatly increases your risk of collision. Do not begin a journey if you are tired.
Do you avoid driving in the dark? Let us know your thoughts in the comments below...