Sort My Sign: Transport watchdog launches campaign for better road signs
Transport Focus is encouraging drivers to report poor road signage in their area to Highways England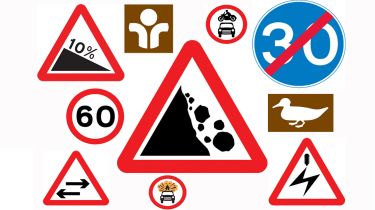 A transport watchdog is calling for better road signage, encouraging drivers to report poor signage in their area.
Transport Focus has launched a new campaign called Sort My Sign which will see motorists complaining to Highways England about erroneous, damaged or obstructed road signs on 4,300 miles of motorways and major A roads.
The aim of the campaign is to increase the effectiveness of road signs, including electronic signs, helping road users make more informed decisions, improving safety and reducing the stress of driving.
Transport Focus wants to see Highways England fixing inaccurate road signs, providing better information during delays and reviewing existing standards for road signs.
Anthony Smith, chief executive of the Transport Focus, said: "We want to hear from road users about signs and information that aren't up to scratch. We'll use what you say to press Highways England to make journeys easier and safer.
"There is nothing more frustrating than missing your turnoff because the sign was hidden behind a tree or missing crucial information.
"While we have some of the safest roads, there are still too many signs which are broken, confusing or out of date. If it's not clear, it's not safe."
RAC spokesman Rod Dennis commented: "While it might be Britain's ongoing problem with potholes that attracts most of the headlines, sadly they are not the only problem with our roads.
"RAC data shows that among drivers who think the condition of the roads has worsened in the last 12 months, around one in five say it's actually poor signage visibility that's the problem, with a similar proportion complaining about a lack of foliage management.
"We warmly welcome the Sort My Sign initiative that allows motorists to quickly and easily report problems they spot and hopefully get something done about them."
Do you think road signs need to be improved? Let us know your thoughts below...