Watchdog: £561 bill after botched repair
Audi A3 Sportback owner left to pick up tab, after being sold car with badly repaired accident damage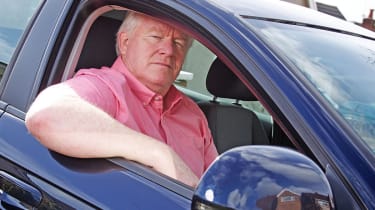 When buying a used car, it's vital to check thoroughly for accident damage. And that's especially true when buying from an independent dealer, because otherwise you could find yourself footing the bill for a problem that's not your fault.
That's exactly what happened to Robert Haines from Cardiff. He bought his 2009-registered Audi A3 Sportback from dealer Motorpoint Newport in Gwent in April 2010. So he wasn't too worried when he discovered the carpet under the footwell mat was soaking wet, because there was still plenty of time left on the warranty. But a trip to his local Audi dealer failed to cure this.
In fact, Robert had to take the car in five times before the main dealer diagnosed the problem: water was leaking in from the rear, where accident damage had been badly repaired. The first four repair attempts were carried out under warranty, but the fifth and final attempt wasn't – so Robert was left with a £561 bill to pay.
Audi told him to take up the issue with Motorpoint, as the fault was its responsibility. But by then, Robert had owned the car for two years and the company didn't want to know.
"I'm 63 and I've never had a problem like this," a frustrated Robert told us. "Why am I being made to pay for something that wasn't my fault?"
We asked industry regulator Motor Codes who should be picking up the tab. Advice line manager Holly McAllister told us: "He needs to pursue the seller. Either it knew about the fault and didn't declare it, or it didn't check the car properly."
A Motorpoint spokeswoman said it carried out a "stringent pre-delivery inspection" and denied the issue was present on the Sportback at the time of purchase. "We're surprised the dealer took over 18 months to fix the car," she added.
Audi's spokesperson said its staff took a logical approach to repairing cars. But it agreed to cover the cost of the repair as a goodwill gesture.
The problem
Robert's A3 Sportback hada water leak due to badly repaired accident damage, Neither Audi nor Motorpoint would pay to sort it out.
The response Motorpoint said it didn't hear about the issue for almost two years after purchase. It denied the fault was present when it sold the vehicle to Robert.
Legal advice Motor Codes' Holly McAllister said: "Accident damage isn't covered under warranties – only defects." But if it was there at the time of purchase, you can reject the vehicle under the Sale of Goods Act.
Our verdict The issue arose within six months of Robert buying the A3. So from a legal respective, the fault was present at the time of purchase. Motorpoint should have taken responsibility; Audi deserves praise for stepping in.