Amphibious supercar
Watch the Sea Lion amphibious supercar in action on land and in water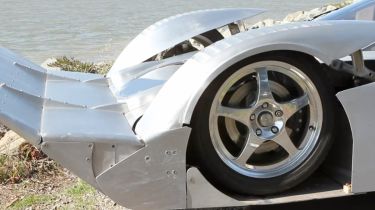 [[{"type":"media","view_mode":"content_narrow","fid":"78509","attributes":{"alt":"","class":"media-image"}}]]
Watch footage of the Sea Lion in action – a home-made amphibious mid-engined supercar, which has been designed with two speed records in mind.
Due to its lightweight aluminium construction and aerodynamic shape, the Sea Lion's maker, Marc Witt, is hoping to break the current amphibious record of 125mph on land and 60mph on water.
The Sea Leon is powered by a 170bhp Mazda rotary engine, but is geared for a top speed of up to 180mph on land. Plans are in place to develop a replacement engine producing more than 300bhp, if a backer is found.
Power can be switched between the rear wheels and a jet-drive water pump, and the Sea Lion is fitted with a four-speed gearbox and a fighter-plane style gear stick. On the outside, removable side-pods are used for flotation and luggage storage.
The Sea Lion prototype is currently for sale priced at 259,500 US dollars, which is around £165,000.