Fake airbags' crash risk
Drivers in the US who've had their airbag fixed or replaced recently may have had an ineffective bag fitted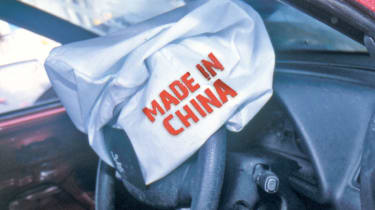 Dangerous counterfeit airbags are causing a panic in the US after the Government there revealed that tens of thousands of cheap fakes have flooded the market and put drivers' lives at risk.
Tests conducted by the National Highway Traffic Safety Administration (NHTSA) show the majority of counterfeit bags don't inflate or fail to inflate properly, rendering them useless in a crash. And, in at least one test, a counterfeit bag fired shards of metal shrapnel on impact.
US investigators believe the fakes are being made in China. But they look genuine enough, and in most cases even include a manufacturer's logo to add to their authenticity.
Drivers who've had an airbag replaced by an independent garage or workshop in recent years are having to get their car inspected at a cost of $100-$200 (£62-£125). But the Vehicle Operator and Standards Agency (VOSA) was quick to reassure motorists over here, with a spokeswoman telling us: "VOSA is not aware of any counterfeit airbags being sold in the UK."