CES 2014: future car tech at the Consumer Electronics Show
The 2014 CES show gave us a tantalising glimpse into the future of car technology. We round-up the big news stories
The Consumer Electronics Show (CES) is best known as the world's leading showcase for the latest electronic technology innovations. Think TVs, computers, mobile phones and any other commercially available gadget from giant tech brands like Google, Apple, Sony, Microsoft and many smaller ones too. But, as the worlds of technology and motoring increasingly merge, CES is also an opportunity for car manufacturers and other automotive brands to exhibit their own cutting-edge kit.
The 2014 CES show was jam-packed with next-generation products and technology that will be appearing on UK roads in the future. The likes of BMW, Audi, Mercedes, Ford and Kia all lifted the lid on major new tech at the show while established technology brands showed off the products they hope will help them muscle into the automotive space. 
Basically, there was a huge amount to interest the motorist and keep the car fan entertained. As always, Auto Express was there to keep you in the loop.
The top car news stories from CES 2014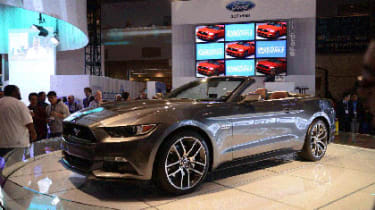 BMW reveals autonomous prototypesTrust BMW to take driverless car technology a stage further. The self-driving 6 Series and 2 Series models it showed off at CES 2014 don't just drive themselves, they can drift themselves too. In BMW's future everyone can be a sideways hero.   
Audi Sport Quattro laserlight makes CES debut Audi chose CES 2014 to install some new headlights on its Sport Quattro concept. If you're wondering what the big deal is, these headlights adopt matrix LED laser light technology that can illuminate the road ahead for 500 metres ahead.
Ford C-MAX Solar Energi conceptFord clearly thought the Las Vegas CES show in the heart of the Nevada desert was a good place to unveil a solar powered car. The C-MAX Solar Energi is a plug-in hybrid that harvests the power of the sun's rays with solar cells on its roof. 
Kia reveals future tech for production carsKia displayed a range of technology that will be making its way into future models at CES 2014. The highlight was the User-Centered Driver concept (UCD) that presents the driver with a huge 18-inch widescreen head-up display packed with information.
New Audi TT interior revealedWe haven't seen the undisguised exterior of the new 2014 Audi TT yet but the interior is in the public domain thanks to a special display on the Audi stand at CES 2014.
Driverless cars are here: first self-driving car goes on sale Whether you like the idea of your car driving you about or not, the fact is driverless cars are here. The world's first commercially available self-driving car was unveiled at CES 2014. It's just a shame you can't legally be driven by the Induct Technology Navia on public roads.
New car audio tech gets "studio quality" sound from MP3s Playing MP3s and music streamed over the internet in your car is the future but these compressed sources don't get the best out of the high-end car audio systems fitted to modern cars. Harman says its new Signal Doctor technology offers the convenience of MP3s with "near studio quality sound".
Modern cars at serious risk from computer hackers Internet enabled cars offer a host of advantages to motorists but connectivity also brings vulnerability. Harman says that computer hackers could conceivably take control of a modern car's internet enabled systems and has developed an advanced software barrier to stop this happening. 
• Audi Sport Quattro laserlight for CES debut• New Audi TT interior revealed• Ford C-MAX Solar Energi concept• Kia reveals future tech for production cars• BMW reveals autonomous prototypes• Driverless cars: everything you need to know